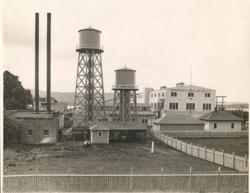 "Few major U.S. manufacturers weave their own fabric in America," says Charlie Bishop, VP of Mill Operations, Pendleton Woolen Mills.
(PRWEB) August 01, 2012
The Washougal Mill is the second company mill. "Our first mill in Pendleton, Oregon still weaves our iconic Indian jacquard patterns, but the addition of the Washougal mill provided the ability to add a wider variety of fabrics," Charlie Bishop, VP of Mill operations and fifth generation family fabric craftsman. Today, the mill weaves a variety of wools from its signature Sir Pendleton weight fabric to Umatilla woolen fabric for men's shirts, as well as light weight suiting fabrics for women's apparel. Most of the company's menswear and womenswear fabrics are woven in the Washougal Mill with blanket products woven in both mills and finished in the Washougal mill.
Operating two woolen mills in the United States, Pendleton is committed to Made in America where ever possible, including Apparel and Home, The Portland Collection, all of the company's iconic wool blankets, throws, including its MBDC certified Pendleton Eco-Wise Wool™.
"Few major U.S. manufacturers weave their own fabric in America," says Bishop, who also represents the 5th generation of this family-owned and operated business. "Because we oversee every aspect of the process, including buying the wool, we can stand confidently behind our "Warranted to Be" promise of quality, a standard that is unmatched in the industry."
Pendleton mills are open to the public for tours. To learn more about public tours, visit http://www.pendleton-usa.com. The mill is located at 2 Pendleton Way, Washougal, WA, 98671. Public tours for individuals and small groups (under 10 persons) are held Monday through Friday, at 9 am, 10, am 11 am, and 1:30 pm. Reservations are not required, however tour spaces are filled on a first come basis. When necessary, extra tours may be added to the existing tour schedule if sufficient tour staff is available. Tours take about 45 minutes. To place a tour reservation, call the Washougal Mill Store at 360-835-1118.
The Mill continued to weave through many milestones.

1909 Construction of the original Pendleton Mill in Pendleton, Oregon
1912 Pendleton reopens the Washougal Mill, Washougal, Washington
1924 Pendleton introduced the country to "colorful" patterns of wool shirts, once only available in grey or black for men.
1931 the company sold its first worsted wool fabric in New York City.
1938 the bell from Brownsville Woolen Mill was installed in the tower at the Mill Building, June 30th with a formal bell raising ceremony. The bell was cast in 1865 by Henry N. Hopper in Boston who apprenticed under Paul Revere III.
1943 Pendleton Mills were instrumental during WWII in determining how woolen mills operated in the USA. Pendleton took the lead dedicating its principal production of blankets to the US Navy with 80% of production monopolized by War Production Board (WPB).
1948 the Columbia River overflows flooding the mill.
1949 the famous '49er jacket (still made today) was introduced and the Womenswear division launched.
1950 the iconic menswear Topster debuts, an unstructured blazer still in production today.
1956 the mill floods once more. Another iconic item was born, the Reversible Skirt, first called the "Turnabout" skirt. The now famous Sir Pendleton Shirt, 100% worsted wool that is lighter than a cotton oxford shirt, was first woven. It was considered a weaving marvel revered by the industry.
1957 the "Robe-in-a-Blanket" stadium blanket was born.
1961 another menswear favorite, the Topsman debuts.
1962 began the legendary association between Pendleton and The Beach Boys, originally named, The Pendletones. The Majorettes hit single, "White Levis" cited Pendleton as part of hit fashion, "with his big plaid Pendleton shirt!"
1964 construction of the Columbia River flood control dike and the new weave room.
1965 the mill was expanded and upgraded.
1970 construction of the Finishing Building and Wastewater treatment plant.
1970 womenswear launched "Knockabouts," a women's collection targeted for casual and outdoor wear. Demolition of the landmark water towers happened around this time as well.
1977 menswear launches "Lobo", targeted to a youthful, outdoor consumer.
1978 installation of the first shuttle less rapier looms.
1990 Pendleton began making upholstery and related fabrics through its new Interiors Department.
1993 the Washougal Mills Outlet Store moves to a 7,000 sq. ft. building formerly housing blanket weaving and sewing departments.
1994 construction of the new dye house.
1998 the Washougal mill fire of Dec. 17th takes 31 firefighters eight hours to extinguish with estimated damage of $250,000 - $350,000.
1999 the mill weaves the company Signature Tartan to celebrate its 90th anniversary. It was officially accredited by the Council of Scottish Tartans.
2005 Pendleton supports Susan G. Komen Foundation fundraising creating "Weaving for Life" plaid products.
2007 saw the birth of Pendleton Eco-Wise Wool™, an award winning Cradle-to-Cradle status by MBDC, the country's leading authority in eco-friendly product certifications.
2008 Brot Bishop, member of the 4th generation of Pendleton family ownership, rings the bell in a ceremony commemorating the 70th anniversary of its move to Washougal Mill from Brownsville.
2009 Pendleton celebrates 100 years of blanket weaving in Pendleton, Oregon, the company's original mill. The mill is still in operation weaving the famous Indian jacquard patterns.
2009 Pendleton recognized on cover of Associated Oregon Industries Business Viewpoint "as the cutting edge of sustainable textile manufacturing".
2011 was the launch of Pendleton, The Portland Collection, designed locally by three Portland designers and woven and sewn in America.
2012 Washougal Mill is honored by receiving from the Camas-Washougal Chamber of Commerce the 2012 "Business of the Year" award.
2012 the mill celebrates 100 years of weaving fabric continuously in Washougal.
ABOUT PENDLETON
Setting the standard for classic American style, Pendleton is recognized worldwide as a symbol of American heritage, authenticity and craftsmanship. There have been six generations of family ownership since 1863 when a young English weaver came to Oregon. The company owns and operates some of America's oldest woolen mills, constantly updating them with state-of-the-art looms and eco-friendly technology. Inspired by its heritage, Pendleton designs and produces apparel for men and women, blankets, home décor and gifts. Pendleton products are sold by select retailers throughout the USA, Canada, Europe and Asia. Pendleton products are also offered in catalogs, online and in Pendleton retail and outlet stores nationally. Learn more at http://www.pendleton-usa.com.