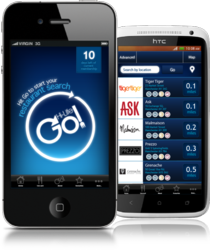 Our game-changing app combines cutting edge mobile technology with our market leading experience in discount dining, giving you the very best offers around.
(PRWEB UK) 1 August 2012
Launched on iPhone and Android, the Hi-Life Go app allows two customers to dine out at more than 4,000 leading restaurants, including Prezzo, ASK and Grand Union, for the price of one. Booking details can be accessed from the app and it also lists the distance to the restaurant from your current location.
The app itself is free to download, register on the website before downloading and users will also receive 30 days use of the app for free. After this time the app can be used for just £1.99 per month on a pay as you go basis, topping up whenever it is needed.
Exclusive offers are regularly added and are automatically updated; ensuring users always have the very latest deals from Hi-Life Go at their fingertips. Search can even be customised so that every time the app loads it will automatically match the best offers to the set location or preferences.
James Tolland, the founder of Hi-Life Go, says "Research shows that 95% of people use their smartphone prior to dining out. For many discount hunting is a way of life. Our game-changing app combines cutting edge mobile technology with our market leading experience in discount dining, giving you the very best offers around."
Website: http://go.hi-life.co.uk/
Twitter: http://twitter.com/HiLifeGo
Facebook: http://www.facebook.com/HiLifeGo