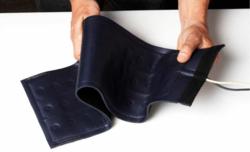 …joining EXO2's FabRoc™ heating technology to our Blizzard™ hypothermia product line…simply makes sense says Ofer Molad, president and CEO of PerSys Medical.
Houston, Texas (PRWEB) August 02, 2012
Some partnerships are forged, and others simply fall into place. The latter is the case concerning a new cooperative partnership established between PerSys Medical (Houston, TX) and EXO2 (Locust Grove, GA) to develop, market and sell a new wave of temperature controlled hypothermia prevention and management systems incorporating cutting edge technologies from both companies intended for use by the US military.
"It's one thing to undertake the task of proving, and establishing strategic partners, and it is another for two companies to simply realize their technologies are complimentary and that there is a synergy of goals", says Ofer Molad, president and CEO of PerSys Medical. "We feel this is the case with joining EXO2's FabRoc™ heating technology to our Blizzard™ hypothermia product line. It simply makes sense."
PerSys Medical and EXO2 aim to join the best qualities of both proven hypothermia solutions to produce a line of lightweight hypothermia prevention and care devices that give extra control to medics by allowing them to select temperature settings dependent on patient need. The heat insulating and patient coverage qualities of Blizzard's products combined with EXO2's innovative FabRoc™ heat technology make this a win-win technology driven collaboration. "We are pleased to build on our experiences of building innovative products for our Armed Forces and are thrilled to join our devices with the Blizzard™ line that has already been proven in the battlefield" explains Drew Waltson, CEO of EXO2. "There are so many points between the technologies, the common goals of the two companies, the desire to save lives in combat, and more that make this partnership an obvious preference."
The partnership and preliminary designs will be a focal point for PerSys Medical at upcoming military conferences such as ATACCC and SOMA with a final product design to debut in the coming months.
EXO2 is an innovator and worldwide leader in the design and manufacture of heated consumer, industrial and military products. From heated power sports and recreational apparel to industrial pipe and tank wraps, the unique features and benefits of EXO2's FabRoc™ heat technology truly lives up to the claim that "FabRoc™ is a solution looking for a problem." EXO2 is most proud when its products are used by our servicemen and women, law enforcement and first responders.
PerSys Medical supplies militaries, law enforcement agencies, fire departments, hospitals, and search and rescue facilities with life-saving medical innovations. The products that PerSys brings into the medical market have become the standard worldwide. PerSys also offers the PerSys Medical Training Center onsite at their Houston, TX location providing American Heart Association sanctioned classes and specialized tactical first aid courses.
###