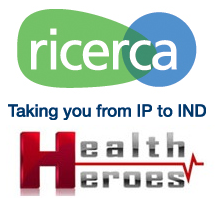 Concord, OH (PRWEB) August 13, 2012
Ricerca Biosciences announced today that they will be featured in an upcoming episode of Health Heroes.
With US locations in Ohio and Washington, and international facilities in Taiwan and France, Ricerca Biosciences offers the medical community a suite of comprehensive research capabilities.
This particular episode will showcase breakthroughs in life sciences. The medical community is advancing at a breakneck pace, and Health Heroes viewers will be taken behind the scenes of the research firms that make it all happen.
"Being featured in an upcoming episode of Health Heroes is an exciting opportunity for Ricerca Biosciences. Our dedicated scientists work hard every day to bring novel approaches to biopharmaceutical research and we welcome the chance to showcase our talent and contributions," said James Baumgartner, Senior Vice President and General Manager of Ricerca's Discovery Pharmacology business unit.
"When discussing technology, the true marvels today are happening behind closed doors," said Barbara Perry, producer for the series. "I'm proud to be able to bring an inside perspective to the Health Heroes audience."
In this segment, viewers will learn about the research currently taking place at Ricerca Biosciences. From molecular profiling to cellular biology, television audiences will surely be amazed.
About Health Heroes:
Health Heroes is a powerful TV series dedicated to defining and exploring today's latest medical advances in all areas of health and wellness. Written with both the industry professional and television audience in mind, Health Heroes educates, entertains and enlightens the lives of our viewers.
For more information visit: http://www.dmgproductions.org or call (866) 496-4065.
About Ricerca Biosciences:
Ricerca Biosciences offers a comprehensive suite of discovery, preclinical and development services to support drug candidates from lead identification through IND and NDA on a global scale. Capabilities include molecular through in vivo screening and profiling, as well as radiochemistry, API process chemistry and cGMP manufacturing of clinical and commercial API. Our experienced scientists deliver world-class expertise and services to help you shorten time to IND and bring molecules to the clinic faster.
For more information, visit: http://www.ricerca.com or call 1-888-RICERCA.
Media Contact:
Bart Reitter
610-213-5408