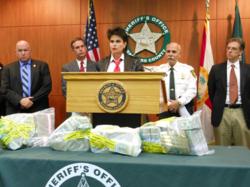 Fraudulent acts not only cost the people of Florida millions of dollars in revenue, but promotes a culture of distrust throughout the business community, and depresses job growth when it is most needed. - Linda Webb, President of Contego Services Group
Fort Lauderdale, FL (PRWEB) August 01, 2012
Contego Services Group, LLC was invited to share in the success of 'Operation Dirty Money' as it played an important role in providing evidence needed to take down the individuals involved in the workers' compensation fraud scheme. At the press conference, Linda Webb, President of Contego Services Group, LLC, said, "I am honored that Contego was invited to participate in this task force operation. One of Contego's clients, Guarantee Insurance Company, was victimized. Combatting the increased prevalence of fraud in our community is the core of our corporate mission."
"Fraudulent acts not only cost the people of Florida millions of dollars in revenue, but promotes a culture of distrust throughout the business community, and depresses job growth when it is most needed," said Linda Webb. She went on to say, "We are in a zero tolerance business. Fraud harms our customers, our friends, our family, and our nation. We are committed, along with every organization represented here today, to spread the word about the costs presented by this often overlooked yet very serious social issue."
In the course of the joint investigation it was discovered that Hugo Rodriguez, owner of the Oto Group, Inc., was the "ring leader" of seven individuals and the facilitator of 10 shell companies that syphoned in excess of $70 million in undeclared and hidden payroll through different money service businesses. By using shell companies, Rodriguez was able to run a large scale construction operation and avoid paying the cost of workers' compensation coverage, leaving employees at risk and scamming legitimate businesses in the "cheat to compete" scheme.
K & N Food Corp., owned by Nilbala and Kanti Patel, a licensed money service business in Palm Beach County, was the first check cashing business used by Rodriguez and his associates. The Patels are set to enter into plea agreements with Attorney General Pam Bondi's Office of Statewide Prosecution, and have agreed to the immediate forfeiture of over $490,000.
The first of its kind, this joint task force, was ruled a success and will hopefully become the footprint for other Florida counties to follow. "This kind of fraud is diverting nearly $1 billion from Florida's economy annually and is putting honest small businesses and employees at risk," CFO Atwater said. "I am proud of the diligent efforts of my insurance fraud detectives, Sheriff Lamberti and his team here at the Broward Sheriff's Office, and the prosecutors who have come together to make this joint fraud task force a success."
"Through collaborative efforts between BSO and our state law enforcement partners in the Workers' Compensation Fraud Task Force, we were able to shut down a prolific criminal enterprise," Sheriff Lamberti said.
Contego's SIU & Fraud Manager, Tricia Donaven, sat on the Money Service Business Facilitated Workers' Compensation Fraud Work Group that facilitated the legislation needed to make 'Operation Dirty Money' possible. Advocated by Sen. Thrasher and Rep. Davis during the 2012 Legislative Session, reforms furnished regulators and law enforcement officials with critical tools needed including the ability to make unannounced inspections and banning the possession of thumbprint stamps or other items used to forge payment authorization. These new improvements are aiding to detect workers' compensation insurance fraud more quickly.
Arrests of the individuals involved in the check cashing scheme were made in multiple counties including Broward, Miami-Dade, Palm Beach and Polk counties. Attorney General Bondi's Office of Statewide Prosecution and Miami-Dade State Attorney Katherine Fernandez-Rundle will prosecute the arrested individuals.
"There are 40 more shell construction companies currently under our radar and dozens more that will soon see the wrath of this skilled task force," Tricia Donaven said. "Contego Services Group, LLC will be there every step of the way, helping to get Florida's honest construction workers back on their feet, by unraveling the web of fraud, one dirty contractor at a time."
Contego Services Group, LLC provides innovative insurance services and cost containment solutions. Services include investigative services, SIU & Fraud, Subrogation, Due Diligence, Loss Control, and Transportation & Translation. For additional information on Contego Services Group please visit http://www.ContegoServicesGroup.com or contact Jessica Custer at 954-556-1616.
http://sheriff.org/apps/arrest/details.cfm?id=94687627-d11c-489a-8c70-7ab2a5618473&key=7358D5A786E0D437FBC54492D3D356F4&page=1&lname=RODRIGUEZ&fname=HUGO
http://www.myfloridacfo.com/sitePages/newsroom/pressRelease.aspx?id=4090
http://articles.sun-sentinel.com/2012-07-27/business/fl-dirty-money-20120727_1_comp-scheme-compensation-fraud-construction-companies
http://miami.cbslocal.com/2012/07/27/operation-dirty-money-bust-takes-down-workers-comp-fraud-ring/
Media Contact:
Jessica Custer
954-556-1616
http://www.ContegoServicesGroup.com
JCuster(at)ContegoGroup(dot)com
###