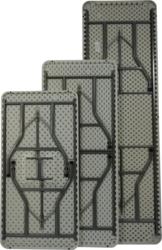 Vancouver, Canada (PRWEB) August 01, 2012
National Event Supply (a division of D & K Imports Inc.) today announced a strategic alliance with Locher Evers International. With the agreement, National Event Supply will begin warehousing and distributing select products from the Locher Evers International Warehouse in Vancouver, B.C.
"Starting just after the Civic Holiday weekend in August 2012, National Event Supply will begin warehousing select NES Reliable Blow-Mold Folding Tables, NES Wood Folding Tables, NES Reliable Plastic Folding Chairs, and NES Reliable Wedding-Style Resin Folding Chairs at Locher Evers' warehouse in Vancouver, BC for distribution across western Canada," said Dennis Heathcote, Co-President of National Event Supply. "As time goes by, we hope to increase the number of products lines offered from our new location in Vancouver."
Ron Gray, VP of Warehousing & Operations for Locher Evers International(LEI), said "We are excited that National Event Supply has chosen to warehouse some of their folding tables and folding chair product lines with us in Vancouver. We have been working with them for the past year in Toronto and are eager to continue to help them grow their business across Canada."
National Event Supply has also signed a Strategic Sales Agreement with A.E. Sales to provide better Customer service to its Customers across western and eastern Canada. Tony Shelling, Managing Director for A.E. Sales Group(Vancouver), said "We are excited that National Event Supply will be stocking products in Vancouver. We often have sales opportunities where Customers are unable to wait for the products to be shipped from Toronto. Even though National Event Supply offers competitive pricing and shipping from Toronto, the warehouse in Vancouver will significantly improve our ability to provide great service and delivery times for our BC and Alberta based customers while dramatically reducing shipping costs."
Locher Evers International Vancouver warehouse and distribution Centre is located at 456 Humber Place, Annacis Island by the Alex Fraser Bridge just off Highway 91 and is only 30 minutes from downtown Vancouver. This location gives Customers throughout the lower mainland area the ability to do quick and easy pick-ups at the new warehouse.
About Locher Evers International / Westcon Terminals
Locher Evers International is a Canadian-owned international freight forwarder, with branches coast-to-coast in Canada, London, England as well as branches in Germany and South Korea. Through Westcon Terminals, Locher Evers International has developed customized warehousing and distribution solutions for customers with varied needs, including third party inventory control, RMA, and non-resident importer programs. For more information about Locher Evers International please visit http://www.lei.ca or call us at 604•523•5100.
About A.E. Sales Group
A.E Sales group provides sales agency services for world class manufacturers to service the requirements of our favorite people - our customers. We try to treat everybody we deal with well and to provide unbeatable service to both our customers and to our supplier partners. For more information on A.E. Sales group please visit [http://www.aesalesgroup.com or call us at 866-391-6450.
About National Event Supply (a division of D & K Imports Inc.)
National Event Supply Canada is a leading factory-direct wholesaler of dinnerware, flatware, glassware, tables, chairs, and a wide range of other quality hospitality and foodservice products. Our Customers include major Convention Centres, Banquet Halls, Restaurants, Caterers, Golf Clubs, Rental Companies, Churches, Community Centres and many other Hospitality/Foodservice based companies. For more information on National Event Supply and its products please visit [http://www.nationaleventsupply.com or email us at info(at)nationaleventsupply(dot)com.