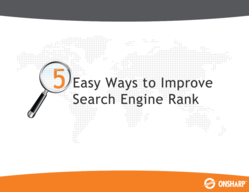 Fargo, ND (PRWEB) August 01, 2012
Onsharp has developed a free eBook, "5 Easy Ways to Improve Search Engine Rank". The download helps businesses who might have some SEO experience improve the ranking of their website on common search engines such as Google, Yahoo, and Bing.
There have been major algorithm changes made by Google just this year. The eBook ensures compliance with the recent changes and provides helpful information that can help businesses maintain ranking also. Written by the Onsharp Online Marketing team, the easy ways are utilized by the team every day to help their clients gain and maintain ranking for their business on major search engines.
Visit our website to download "5 Easy Ways to Improve Search Engine Rank."
Onsharp is an interactive agency that architects, builds, and supports web-based solutions. We're passionate about technology, but not just because we think it's cool. We are experts at helping businesses understand how new technologies and trends can help them meet customer demand while improving productivity. Onsharp strives to create success in the lives of all people, businesses, and communities they serve. For more information about Onsharp, please visit http://www.onsharp.com or call toll-free at 1.866.ONSHARP.