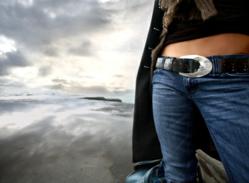 A large, blingy necklace with a chunky bracelet is too much. Your accessories should never compete.
Houston, TX (PRWEB) August 02, 2012
No matter the fashion budget, finding a pair of jeans that transition from casual Friday to a night out is not as difficult a task as it may seem. From top designers such as Chanel and Gucci to moderately priced brands like Levi's, jeans have become a favorite among the young and old because of their comfort and versatility. While the t-shirt and jeans look can be achieved with minimum effort, Rodeo Drive Resale offers a few tips on how to dress up those jeans to create a fun and cultured look.
1) Start At The Top: Most jeans can be instantly upgraded from casual to fashionable by simply being paired with a designer blouse or top. Find a blouse that works well with your favorite pair of denim jeans and match them up to score a winning style. Perfect for an upcoming date or an evening on the town, the blouse/jean combo makes for quite the contrast. Additionally, a classic white top with a pair of lighter denim bottoms can be a great look, especially during the hot summer months. For the colder portion of the year, consider a cardigan or light sweater along with a light shirt for a lovely, layered look.
2) The Little Things Count: For those who prefer a bit of status with their style, consider incorporating designer accessories such as a Marc Jacob watch, Chanel purse, or a Salvatore Ferragamo scarf to complete the ensemble. Necklaces, too, can spruce up your look; adding a bit of sophistication to anything from discount to designer denims. Similarly, a pair of glistening earrings can do wonders; and while close-fitting jeans often work well on their own, it rarely hurts to add a colorful belt to create a more pristine presentation. Rodeo Drive Resale co-founder Raya Jaffer promotes the modest approach to accessorizing: "A large, blingy necklace with a chunky bracelet is too much. Your accessories should never compete."
3) Be A Little Dark: Summertime getups typically consist of bright colors and lighter material, but the fact remains that darker jeans are easier to dress up than their fairer counterparts. In a semi-formal event or, say, casual Friday at work, a slim cut, dark pair of jeans can convey a more relaxed style of fashion while remaining tasteful. Steer clear of distressed, torn or overly embellished jeans for these occasions when in a professional setting. Flats or heels work well here, and will give your jeans a dressier feel.
Some are calling jeans the "new little black dress" because they can be dressed up or down to suit nearly any occasion. Perhaps there is a pair of jeans sitting idly in the closet, waiting to greet the world once again: Help them catch a second wind by applying a few of today's grunge-to-glam fashion tips.
ABOUT RODEO DRIVE RESALE
With over a decade of experience, Rodeo Drive Resale specializes in buying, selling, and consignment of authentic couture fashions. Buy, sell or consign favorite luxury designers such as Louis Vuitton, Chanel, Prada, Gucci, St. John Knits, David Yurman, Christian Louboutin, Tiffany & Co. and more. All items are guaranteed 100% authentic. Visit RDR online at http://www.shoprdr.com or call toll free at (888)697-3725.