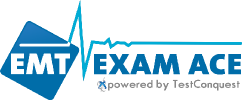 We invite students of all backgrounds and disciplines to consider EMT careers.
Boston, MA (PRWEB) August 09, 2012
Your student ID is coming handy once again this summer. EMT Exam Ace, a website that creates premium EMT cognitive exam preparation products, recently announced its fourth discount program: a student discount code.
"Many people who study for EMT certification today are either part-time or full-time students at higher education institutions across the country," says Ted Chan, founder of EMT Exam Ace. "We invite students of all backgrounds and disciplines to consider EMT careers."
The exclusive student discount code by EMT Exam Ace is applicable to any product offered on the website. There is a limit of one code per purchase.
EMT Exam Ace currently offers affordable online EMT cognitive exam preparation courses for EMT-Basic (EMT-B), EMT-Intermediate (EMT-I/85 and EMT-I/99), and EMT-Paramedic (EMT-P). The company also offers similar discount programs for military personnel, civil servants, and teachers. The student discount program follows the similar structure: a flat-rate $10 discount off any EMT Exam Ace product.
"There are many perks to being a student," says Samantha Tanzer, product development manager at EMT Exam Ace. "But student discounts definitely rank near the top. We are committed to help you pass your EMT exam. In addition, we are striving to make EMT certification education even more affordable to students across the nation today."
EMT Exam Ace has established the special $10 student discount code as a year-round offer to students across the country. TestConquest reserves the right to request confirmation of credentials for suspicious activity.
About EMT Exam Ace and TestConquest
EMT Exam Ace is an upcoming website that provides comprehensive online review courses at the EMT Basic, Intermediate, and Paramedic levels. Boston-based TestConquest, its parent company, is an educational enterprise providing professional certification preparation solutions. Visit http://www.emtexamace.com to learn more about how you can ace EMT certification.