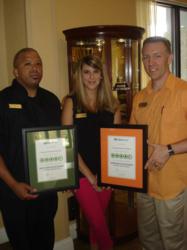 Statesville, North Carolina (PRWEB) August 02, 2012
The Courtyard by Marriott Statesville has received the Hotel of Excellence Award by Trip Advisor for the second consecutive year with a 98%, ranking them higher than all 35 lodging facilities in Iredell County. Trip Advisor dynamically ranks hospitality businesses worldwide based on their popularity, as measured by the quality, quantity, and regency of content written about the business on Trip Advisor.
Andy Briggs, Regional Director/GM says, "I am so proud of our team because this award reflects our staff's commitment to outstanding customer service and quality standards that today's travelers appreciate and expect." The hotel was also awarded the "Best Lodging" Award this year as the best hotel in Statesville, NC chosen by Statesville Record & Laandmark readers.
The hotel's friendly, helpful staff and quiet, clean and comfortable rooms along with a convenient location close to I-77 contributed to the Trip Advisor #1 ranking. The Courtyard by Marriott Statesville offers a full array of amenities with Marriott's high standards of service and a touch of its own southern hospitality. The Courtyard Statesville provides spacious guest rooms equipped with large work desks and wireless internet, on-site restaurant called The Bistro, pool and fitness room. The hotel has a meeting room ideal for corporate meetings or social gatherings equipped with SmartBoard technology.
With attention to detail, a commitment to service and great location just minutes from the Charlotte International Airport, Lowes Motor Speedway, U.S. National Whitewater Center and the Yadkin Valley Vineyards, the Courtyrd Statesville has much to offer today's business and leisure travelers alike. The Courtyard by Marriott Statesville is locally owned and operated by Gateway Hospitality.
The four-story, 94-room Courtyard by Marriott Statesville is located at 1530 Cinema Drive and represents the second hotel in the Statesville area managed by Gateway Hospitality. Gateway Hospitality has been developing, owning and managing award winning hotels beginning in 1995. Since then Gateway has been successfully involved in over 20 hotels in the Carolinas and Florida. For reservations, visit http://www.statesvillecourtyard.com or call 704-768-2400 for reservations.