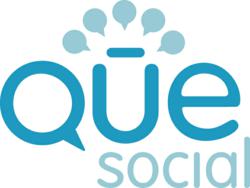 In one platform, QŪEsocial teaches employees to use social effectively in their every day jobs, delivers relevant and sharable content literally to their fingertips, and uses a powerful gaming engine to convert social activity into business outcomes.
Chicago, IL (PRWEB) August 01, 2012
QŪEsocial™ today introduced its social business technology platform that will make it easy for companies to focus and channel their social media efforts to achieve measurable business results. By equipping employees with job-specific e-learning, fingertip content delivery and motivation through game mechanics, QUEsocial will help company employees in converting their social media activity into business outcomes.
QŪEsocial, a SaaS social business platform, integrates function-specific e-learning, social content delivery and gamification into a single dashboard specifically designed to support the different business needs and uses of social media across sales, recruiting, customer service, HR and product development. QŪEsocial is the first social business tool that extends beyond marketing and outside the firewall to help companies and employees align and measure their social interactions against business performance.
"Many companies recognize that social media has applications that extend beyond marketing, but they don't have all they need make social a meaningful part of their everyday work," said Patrick Rooney, CEO of QŪEsocial. "In one platform, QŪEsocial teaches employees to use social effectively in their every day jobs, delivers relevant and sharable content literally to their fingertips, and uses a powerful gaming engine to convert social activity into business outcomes."
The advanced game engine is designed to guide employees through the social business adoption cycle, from social media basics to social business conversion—whether a closed sale, hired employee, customer issue resolution or product innovation. The platform currently supports LinkedIn, Facebook and Twitter, and will add social network support in the coming months.
QŪEsocial was developed for large distributed work forces that struggle with branded content distribution and training delivery; and small-and medium size businesses (SMBs) that are continuously looking for ways to operate more effectively and efficiently. The flexible Saas platform will allow QŪEsocial to be easily integrated with a company's existing tools, including the most popular customer relationship management software, learning management systems and other enterprise applications.
Overview of QŪEsocial

Business-Results Focused Gamification—At the center of QŪEsocial is an advanced, scalable gamification engine designed to embed and reinforce social business action and behavior throughout the adoption cycle, from initial social activity (content sharing, network growth, etc.) to converting social connections into business results.
Content delivered to fingertips—Integrated with the gamification engine, QŪEsocial provides employees with a robust library of sharable content curated specifically for target audiences and readily available to users for easy sharing.
On-demand e-Learning— Also integrated within the gamification engine, QŪEsocial's on-demand e-learning modules provide employees with knowledge and best practices for using social channels effectively for their work. Modules begin with social media policies and guidelines and extend to step-by-step instruction and advanced techniques for maximizing the value of social networks.
Flexible SaaS—The turnkey QŪEsocial SaaS platform requires no integration into a company's existing technology infrastructure, eliminating cost and hassle for companies that want to immediately begin realizing social business benefits.
Benefits of QŪEsocial

Amplifies the value of existing investments in LinkedIn, Twitter, Facebook, Jobvite, and others
Makes it easy for companies to focus, align and channel social efforts to create cross-organizational consistency
Converts social media into measurable business results
Empowers employees to use social media as a business tool
Extends a company's reach through employee networks.
"Executives and business-line managers are looking for ways to create a competitive advantage or a meaningful point of differentiation to drive their businesses forward," said Rooney. "QŪEsocial is developed from the perspective that successful employees make successful businesses. We equip each employee with the know-how, content and motivation to achieve their professional objectives and contribute to overall business performance."
QŪEsocial At-a-Glance
Setting a New Bar for Business Gamification

175 challenges: flexible, scalable, customizable and focused on driving activity, sharing and interaction to guide users through social business lifecycle
120 social activities: shape game challenges and rewards
50+ metrics: analytics to measure department and individual success
Leaderboard: at-a-glance view of the users'scoreboard, individual performance, level status, reminders and alerts to new content, training and challenges.
Content Delivered to Employee Fingertips

Sharable content is delivered to employee fingertips via SMS, MMS or email—which can easily be shared to their preferred social network with the tap of a button
Easy for on-the-go salespeople, time-crunched recruiters, busy support representatives and product developers to actively participate in social media while earning game points and rewards.
Content library provides wide selection of curated content.
E-learning Teaches Different Functions to Use Social Media Effectively in Everyday Work

E-learning is compelling, actionable and tailored to sales, recruiting, customer service and product development
Episodes are developed by recognized Subject Matter Experts with deep experience in using social channels for specific business purposes
Industry-specific training such as financial services, health care and other regulated industries.
Flexible SaaS Platform Makes It Easy And Cost-Efficient For Companies To "Turn On" QūeSocial

UX-led design with fully functional "out of the box" capability eliminates costly and time- consuming integration into existing CRM, CMS or LMS infrastructure
Open APIs make it easy to integrate into existing CRM, CMS, LMS and ATS investments
Flexible SaaS model provides companies the ability to customize the platform experience
For more information and to see a demo of the QŪEsocial platform, please visit: http://www.quesocial.com
About QŪEsocial
QŪEsocial is a Chicago-based technology company dedicated to making it easy for companies to focus and channel their efforts to achieve tangible business results. The QŪEsocial technology platform is a flexible SaaS platform that combines e-learning, content delivery, gamification and analytics to make it easy for companies to take social business beyond marketing and into the hands of sales, recruiting, customer service and product development. For more information, please visit http://www.quesocial.com.