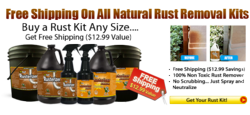 Basically, it is the use of natural ingredients that makes Rusterizer's solution safe.
Portland, OR (PRWEB) August 01, 2012
The fact that rust can damage almost any home item makes rust removal an essential cleaning process. But between a chemical-based product and an organic rust remover, the latter is the more advisable solution. And to prove that it is indeed the right choice, Rusterizer released a video demonstration of the effectiveness of its organic-based rust removal product.
To make rust removal much easier and faster to complete, rust removers were invented. With them, rust-damaged pieces, metal or not, are saved from complete ruin. That, in return, saves a person from unnecessary spending for the item's repair or replacement.
However, the problem is that most of today's rust removal products are with harmful elements. They promise a speedy and effective process but in return, they bring in risks to health. Among the instant negative effects that exposure to them brings in are dizziness, headaches and breathing difficulties.
But Rusterizer is not like most of today's cleaning companies. A safe rust remover is what it got to offer to both homeowners and cleaning contractors.
Basically, it is the use of natural ingredients that makes Rusterizer's solution safe. Because of the absence of strong chemicals, the use of it does not harm anyone's health. And apart from that, it also spares the environment from more pollutants that can worsen its state.
Branded with the same name Rusterizer, the safety that the said product promises also free the users from additional medical bills. Nonetheless, a representative of the company said that its gentleness towards health and the environment doesn't make it is less effective than the other rust solutions available today.
Learn How Rusterizer Is Made Safe
The company assures that Rusterizer, the non-toxic rust solution is effective. It can clear rust in just a matter of minutes without hours of scrubbing needed. That saves a lot of work. For a homeowner, that gives more time for more important tasks. For a rust contractor, that decreases the number of employees needed. And so, rust removal cost is lessened.
But with the release of every new product comes the apprehension to use it. And Rusterizer understands that it's just natural for consumers to doubt a newly launched solution as they just want to put their money on something really worth it.
So to prove that Rusterizer is indeed a worthy product and a solution that is exactly what the company rep declares – safe and effective – videos of it in action was released. In addition to that, the company decided to give a complimentary sample of it to the consumers.
Grab a Rusterizer Today and See How Effective It Is Yourself