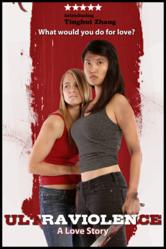 "A motivating force behind creating Ultraviolence A Love Story is the desire to create a movie that helps move society toward the point where movies can have lead LGBT characters without the movie being labeled an LGBT movie – ideally labels will just go
Austin, TX (PRWEB) August 01, 2012
With pre-production of its new feature Ultraviolence – A Love Story underway, Austin based Angry Nun Productions is creating what it hopes will be the next step in movies featuring LGBT leads - a movie where the main characters do not have to deal with LGBT themes, but one with leads that just happen to be LGBT.
Ultraviolence – A Love Story is the tale of two female lovers who leave the city to establish a more relaxed life in small-town America. For three years all goes well until a case of mistaken identity forces the duo to have to flee for their lives when they are targeted by the former head of the Serbian secret police, now turned hit-man.
While the two lead characters are bi and lesbian, the problems they're forced to deal with are not LGBT in nature. Ultraviolence producer Bill Shumake explains it this way, "A motivating force behind creating Ultraviolence – A Love Story is the desire to create a movie that helps move society toward the point where movies can have lead LGBT characters without the movie being labeled an LGBT movie – ideally labels will just go away.
In addition to progressing society's views on the LGBT community, Ultraviolence – A Love Story is unique in three other ways. First, it replaces the traditional male hero with two strong female leads. Secondly, it is being cast in a true manner; for example, if there is a Serbian character in the movie, every effort is made to cast that role with a Serbian actor.
Lastly, Ultraviolence – A Love Story features as one of its leads Chinese action actress Tinghui Zhang, but in a manner that steps away from using an Asian actress solely for Asian themes. She is not Lucy Liu's character in Kill Bill, but just another Chinese American. It is also worth noting that Tinghui not only helped pen the screenplay, but is also acting as one of the movie's producers.
For interviews or more information, contact: Bill Shumake, Angry Nun Productions, Telephone (512) 788 - 0325, Email: bill(at)angrynunproductions(dot)com