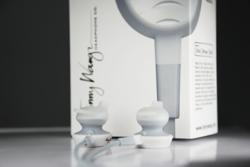 We've made something truly special. We bring a really big sound to the earbud package that many consumers prefer
San Francisco, CA (PRWEB) August 01, 2012
Buds are back! Fanny Wang Headphone Company has created the Wang Bud. Now you can have the same great sound (and bass) of standard size headphones in a sleek and stylish earbud body.
Audio comes first at Fanny Wang, as the company is dedicated to honing its energy into top of the line engineering and the sound development process. Unlike in-ear designs that can be uncomfortable to wear, the Wang Buds have an ergonomic silicone tip, which offers comfort and secure ear placement. Fanny Wang combined this comfort factor with dynamic duel drivers and massive air chambers that give off crystal clear sound and thumping bass. Thus the Wang Buds are a truly unique product – high-end and high-tech sound quality in a compact body.
Fanny Wang designer and co-founder David Adam believed it imperative to add earbuds to their line of high performance headphones. "Companies who have made earbuds in the past view it as only a low-end option. We've made something truly special. We bring a really big sound to the earbud package that many consumers prefer," said Adam.
Top Features of the Wang Buds Include:

High Definition Sound: Super sized air chambers move massive amounts of air, translating to thumping bass while keeping amazingly clear mids and highs.
Dynamic Duel Co-Axial Driver: The10mm - 16ohm Woofer and a 6mm - 16ohm Tweeter provide crystal clarity across all frequency ranges.
Ergonomic Silicon Tips: Soft silicon tips to direct the sound into the ear without causing damage discomfort. The outer circle grips ears to stay put.
Wang Buds retail for $79.95 and are offered in white, black or red. They are currently available for pre-order online at http://www.fannywang.com.
ABOUT FANNY WANG
Rocked by fashion trendsetters, tech influencers, award-winning musicians and professional athletes, Fanny Wang provides the most complete and customizable line of headphones in the marketplace. Fanny Wang's unique blend of high tech with high fashion allows you to truly amplify your sound. Professional quality, crystal clear sound, and an affordable price point have earned rave reviews and Fanny Wang has been noted as one of the best gifts for music-lovers. Visit http://www.fannywang.com for additional information and "like" them on Facebook at http://www.facebook.com/fannywangheadphoneco.