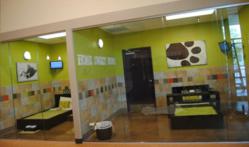 Dallas, TX (PRWEB) August 14, 2012
When it comes to caring for U.S. pets, nothing but the best will do. According to the American Pet Products Association, in 2012 an estimated $4.11 billion will be spent on boarding and grooming in the U.S., so the demand for a fifth Pooch Hotel location comes as no surprise. The latest location opens in the Dallas, TX area August 18, 2012, with more openings nationwide on the horizon. The 5-star hotel and daycare, exclusively for dogs, places a premium on convenience, extraordinary customer care, superior facilities and outstanding services.
Located at 751 S. Central Expressway, Richardson, TX, Pooch Hotel Dallas is a 20,240 square foot facility offering the same best-in-class amenities as its sister locations in Chicago, IL, Hollywood, CA, and Sunnyvale, CA. Pooch Hotel, which was purchased by Petco™ in 2011, has redefined pet boarding options, with unparalleled services, an environmentally conscious mindset and a level of quality and care never before seen. Highlights include:

Custom-made hotel suites with glass doors.
Spaw:This just-for-dogs spa features aromatherapy bathing and massage, paw-dicures, Poochberry facials and tooth brushing.
The Club @ Pooch Hotel Club: This complete, daily lifestyle program for dogs includes fitness and nutrition management. Pooch Hotel specialists can construct a healthy and holistic diet plan that will improve the weight, stamina and overall condition of pets.
Treadmills are available for guests who need a little extra exercise.
Easy drop-off and pick-up for clients 24 hours a day, seven days a week
All Day Play: Guests can take part in a plentiful amount of indoor, supervised playtime with a variety of playground equipment. Over 10,000 square feet is available for guests to play in groups based on size and temperament. Drinking water for guests will be available at all times.
All guests are provided with scheduled feedings, around-the-clock monitoring, attention to any special needs and on-call veterinary care.
Incorporating natural lighting, Energy Star-rated air purification systems and state-of-the-art wet/dry vacuum and disinfecting systems throughout the facility; Pooch Hotel Dallas has taken steps towards a smaller carbon pawprint without sacrificing service, safety and satisfaction.
Grand Opening celebrations for Pooch Hotel Dallas will be held on Saturday, August 18, 2012 from 10 a.m. to 3 p.m. and will include tours of the facility, a 50 percent discount on all daycare package purchases and advanced hotel reservations as well as the opportunity to win great prizes. Please click here for b-roll footage: http://kefmediastream.com/download_links/pooch_hotel.zip
About Pooch Hotel
Pooch Hotel is a 5-star hotel and daycare exclusively for dogs that places a premium on convenience, great customer care, clean facilities and outstanding services. Since opening its first location in 2004 in the Lincoln Park neighborhood of Chicago, Pooch Hotel & Daycare has differentiated itself with pet boarding options, unparalleled amenities, an environmentally friendly mindset and a level of quality and care never before seen. Current Pooch Hotel locations include West Loop, Chicago (opened in 2008), Lincoln Park, Chicago, Sunnyvale, California (opened in 2009) and Hollywood, California. Poochplay, a new daycare solution for pet parents on the go in Totowa, New Jersey, is also part of the Pooch portfolio. For more information on Pooch Hotel, visit http://poochhotel.com.
About Petco
Petco is a leading pet specialty retailer that provides the products, services and advice that make it easier for our customers to be great pet parents. Everything we do is guided by our vision for Healthier Pets. Happier People. Better World. We operate more than 1,100 stores nationwide, including more than 30 Unleashed by Petco locations, a smaller format neighborhood shop, and http://www.petco.com. The Petco Foundation, an independent nonprofit organization, has raised more than $90 million since it was created in 1999 to help promote and improve the welfare of companion animals. In conjunction with the Foundation, we work with and support approximately 7,500 local animal welfare groups across the country to help find homes for more than 250,000 animals through in-store adoption events every year.