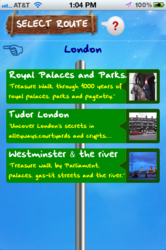 Take your marks, get set, Go!
Charlotte, NC (PRWEB) August 01, 2012
The Treasure Walks London app for iPhone offers users an interactive guide to explore Royal Palaces and Parks; Tudor London and Westminster and the river. The app offers three great walking tours each containing an embedded scavenger hunt. Answer the challenges by finding monuments, dates, and special places.
Questions are answered by text or by taking a picture. Each correct answer scores points. The app uses GPS location tracking to show the user's position along the tour route. Places of interest are highlighted along the way and if a clue is missed the app will redirect the user back towards the correct location. Each walk is timed from start to finish. Olympic Treasure Walks awards will go to the Treasure Walkers with the most points in the fastest time on each route between July 27 and August 12, 2012. Post scores to the Leaderboard and keep watching to see the best scores and fastest times.
London visitors who want to take the tour but would rather leave the competition to the athletes can simply skip the questions and amble carelessly through gaslit streets and medieval alleyways taking in the sites and sounds of London. When the walk is over share the tour map and pictures on Facebook, it's like sending a postcard to friends.
Treasure Walks Apps for iPhone:
Treasure Walks London: Royal Palaces and Parks; Tudor London and Westminster and the river.
Treasure Walks New York: Central Park; 5th Ave to Time Sq; and Crossing the Brooklyn Bridge
Treasure Walks San Francisco: Haight Ashbury; Chinatown and Hitchcock's Vertigo Tour
To be eligible to receive an award a user must upload scores and times to the Treasure Walks Leaderboard at the end of each tour. Each award winner will receive an iPod Shuffle. Users are not required to register to use the Treasure Walks app, but must register to post to the Leaderboard. Award recipients will be contacted via the e-mail submitted when registering on the Treasure Walks Leaderboard.
Treasure Walks London on iTunes: http://ow.ly/cBRNp
Contact Information:
Martin McConnell is Treasure Walks founder and Chief Walking Officer.
martin(at)treasurewalks(dot)com
Treasure Walks: 704 756 1543