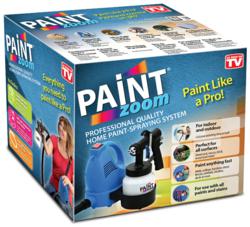 It's a product that is revolutionizing the do-it-yourself paint industry at an affordable price!
Richmond Hill, ON (PRWEB) August 01, 2012
Northern Response International Ltd. ("Northern Response") introduced the revolutionary Paint Zoom to Canada to help Canadians bring granny's living room décor to the 21st century. According to the Financial Post, the Canadian housing market is experiencing a sales lift this season which means more people are buying new homes. To help tackle the job of selling, the Paint Zoom™ paint sprayer allows homeowners to significantly cut the time and effort it takes to renew furniture, revamp walls, and improve home exteriors.
Interior designers have been reminding us for years to never underestimate the power of presentation when it comes to selling one's home. This doesn't mean putting some fresh flowers or fluffing the cushions, it means putting in a little effort to ensure the basics of a home are in tip-top shape.
One of the easiest and most dramatic ways to enhance the first impression of a home is with paint. Though essential, most homeowners will run in the opposite direction when asked to begin the task. From purchasing rollers to the muscle ache, completing a paint job can be quite costly and strenuous. However, there are options for those with less patience, time and skills.
Rollers and brushes can be quite messy and leave runs, drips and stains. They are also known for the time it takes to complete even the smallest of projects. Hiring a professional is an option if one is willing to dish out the cash. For a less costly alternative, the Paint Zoom paint sprayer offers great results with significantly less time and hassle.
The Paint Zoom™ boasts an industrial strength 650-watt motor that delivers enough power for virtually any project. There are three spray options - vertical, horizontal and pin-point - to adjust to the size and shape of the surface. It promises an even, clean-cut coat every time without the mess.
"Paint Zoom™ can literally do in minutes, what a regular roller or brush can do in several hours," says Shane Danson, New Business Development Manager at Northern Response. "It's a product that is revolutionizing the do-it-yourself paint industry at an affordable price!"
The Paint Zoom™ paint sprayer is made of light, durable material and it includes a carry strap for easy use. Unlike other paint sprayers that almost demand an unlimited supply of paint, Paint Zoom™ promises to deliver just the right amount needed for an even coat. The sprayer can be used on virtually any surface.
With a suggested retail price of $79.99, Paint Zoom™ is an affordable option to achieve the look one needs to get their home ready for the market. It's available in several major Canadian retailers, such as Walmart. Canadians can also place an order online securely by visiting: http://www.shopnorthern.com/paint-zoom/
About Northern Response
Northern Response is the largest infomercial company in Canada and the largest international syndicator of third-party DRTV programming in the world. The company is a multi-channel distributor selling products across a diverse range of platforms including DRTV, live shopping, on-line, print, and retail in over 90 countries worldwide. Northern Response has distributed over 1,000 infomercials since 1984 with global retail sales totaling more than 1 billion dollars. Northern Response is based in Toronto, Canada.
For more information visit http://www.northernresponse.com