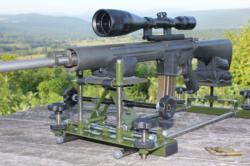 what makes it so useful is the ambidextrous design and the clearance to the frame. High capacity magazines and lever guns fit and cycle
(PRWEB) August 01, 2012
A shooting rest that can accommodate pistol grips, high capacity magazines, and has ambidextrous elevation that operates without any creep or drift represents a major advancement in varmint, bench rest, target, casual, and tactical shooting rests. Even if you are not a Delta Team sniper, there is nothing more discouraging than zeroing the scope on a target or varmint only to find that the front gun support is slowly moving downward, and in the process destroying a perfect sight picture and shooting solution. The Rapid Fire® Shooting Rest utilizes a revolutionary ambidextrously controlled precision shooting mechanism that utilizes linear motion bearings that glide along polished steel rails. The rest can be elevated or depressed in sub-millimeter increments by simply turning either the left or right hand elevation control. The Rapid Fire® incorporates numerous advanced features. One of the more significant ones is the ability to reduce the distance between the rear gun support platform and the elevation assembly by simply sliding the two closer together along a set of polished steel rails. In the world of guns lengths vary from the Mossburg model #500 with a 20" barrel and pistol grip up to the Savage FTR - F Class competition rifle with a 30" barrel. The Rapid Fire® can easily accommodate both of these guns and all variations in between. By virtue of the fact that the distance between the elevation assembly and the rear gun platform can be made extremely short, the rest is also a perfect shooting platform for semi-automatic pistols and revolvers. Whether you're into reloading ammunition, white tail deer hunting, target shooting, plinking, or hand gun shooting, the Rapid Fire® Precision Shooting Rest will make you the envy of your shooting range or gun club. In short, the Rapid Fire® is a shooting rest with advanced features that will compliment tactical rifles and shot guns, precision target rifle, long range rifles, and handguns from a Ruger MK II to a Colt model 1911.
The fact that the Rapid Fire® has sufficient clearance for guns with high capacity magazines and pistol grips also gives it enough relief from the shooting bench for lever and pump action rifles and shot guns; bolt action rifles are, of course, fully supported. This addresses the shortage of rests in the market that give the shooter the ability to cycle a pump action or a lever action without removing the gun from the rest. The actions of both types of guns can easily be operated without disturbing the point of aim. Most shooting rests are not designed with the comfort of the shooter in mind. Typically, in order to get into a good shooting position there is some part of the rest that protrudes and irritates the shooter; and this is especially problematic for left-handed shooters. The Rapid Fire® solves this problem by employing a rear gun platform that can be located laterally in any one of five positions. This way either right or left handed shooters can develop a perfect set up so that the gun is properly supported on the rest and the shooter is comfortably supported by the shooting bench. This makes the rest perfect for long range competition shooting such as, bench rest or F class events using custom rifles or extreme range varmint hunting using a Remington model 700 in .25-06 or a Winchester model 70 in .308. This feature also makes it a great choice for firearms training for both beginning and advanced shooters. Hand gun shooters will find this characteristic perfect because it is allows the shooter's forearm to be offset to either side. The set includes a filled, front leather rest bag, a filled, rabbit ear leather rear rest bag, a magnetic bubble level, and a padded V-notch that can be used in place of the front rest bag. The rest has 4 point leveling, and there are four protective rubber feet that can be placed over the points of the levelers for shooting off delicate surfaces. It is strongly recommended that ANSI approved eye protection and hearing protection with adequate OSHA and NRR ratings are used at all times when in the vicinity of firearms being discharged.
A full range of compression dampened, recoil attenuating shooting and tactical / varmint rests is available from HYSKORE®, http://www.hyskore.com. The line up consists of the DLX Precision Sighting Rest, the Dangerous Game® Machine Rest, the Bench Beast Competition Shooting System, the Dead Eye® Tactical & Varmint Rest, the Black Gun® Shooting Rest, and the Black Gun® Machine Rest. These are fully supported on the HYSKORE® website with instruction manuals, target down loads, and both demo and tutorial videos. Most importantly, these advanced shooting rests are affordable to the average shooter.
About HYSKORE®
HYSKORE® is a registered trademark of Power Aisle, Inc. (Est. 1988) of Huntington Station, New York 11746, 631/673-5975. HYSKORE® manufactures a proprietary line of advanced, purpose built, tactical and sport shooting accessories including shooting rests, multi-function electronic hearing protection, pistol rests, pistol racks and sundry accessories. HYSKORE® products are available at numerous retailers including: Cabelas http://www.cabelas.com, BassPro http://www.basspro.com, Sportsman's Guide http://www.sportsmansguide.com, Cheaper Than Dirt, http://www.cheaperthandirt.com, Brownells http://www.brownells.com, and Midway USA http://www.midwayusa.com.