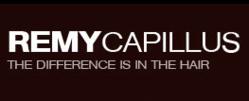 Newtown, PA (PRWEB) August 01, 2012
Remy Capillus is changing the hair extension industry forever. The family owned U.S. manufacturer of human hair extensions has launched a pre-colored and pre-styled line of ultra-premium extensions made from 100 percent Indian Remy cuticle hair. Clients can also now have their extensions styled before purchasing them without sacrificing the softeness and versatility they come to expect from virgin hair based extensions.
The difference truly is in the hair: As with all Remy Capillus products, the RC ProLine™ extensions begins with 100% Virgin Remy Indian human hair. The hair is gently colored via a 10-day proprietary process then styled into one of three textures using a steam and heat based process that avoids the use of chemicals. The mix of superior quality hair and gentle processing is what allows the ProLine™ to retain the softness and appearance of quality virgin hair and is what separates the RC ProLine™ from other pre-colored / pre-styled extensions on the market. Additionally, Remy Capillus's almost non-existent "mustache" and Micro-Weave technology provides clients with the thinnest, strongest, most comfortable and natural looking extensions available on the market.
Remy Capillus wants clients to know that not all hair is the same. Remy Capillus uses only the best 100 percent Virgin Indian Remy human hair from Temples such as the famous Tirumala Venkateswara Temple. Unlike its counterparts, Remy hair products are both ethically sourced and manufactured and go thru an extensive screening process to ensure consistency in the quality of ALL Remy Capillus extensions providing customers with a dependable and consistent product.
Remy Capillus is also a reliable source of information when it comes to questions concerning both their products and more general questions relating to the hair industry itself. They work hard to ensure that they deliver nothing but excellence and strive to be as transparent as possible while helping to provide transparency to the industry at large. Hair stylist Nikki Spice (based out of Brooklyn, NYC) has always had a good experience working with Remy Capillus: "As a stylist, I have worked with various hairs and I have had both good and bad experiences. When I was introduced to Remy Capillus I was well informed about the hair they sell such as, where it is from, how it is treated, how its weft and guidelines on how to care for the hair. I gave the hair a try and I have been ordering since. I highly recommend this hair to my clients and they love it. I order RC Pure™ and ProLine™ for all my clients and after installation it seems to look better after every wash. Customer service is superb, Remy Capillus takes time and they truly cater to your needs. You will not regret your order!"
For more information about Remy Capillus products, call 855-676-4247, and visit http://www.remycapillus.com to shop for hair extensions today.