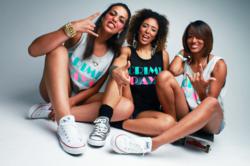 Miami,FL (PRWEB) August 01, 2012
8&9 Clothing, the Miami based street lifestyle brand links and partners up with the women of HypeGirls.com for an exclusive photoshoot with Respek Fresh.
The Hype Girls are rocking some of the new 8&9 Clothing tank tops which match some of the summer's biggest sneaker releases. The tank tops include "Crime Pays", which matches with the Nike LeBron 9 PS Elite "South Beach", a collaboration with designer and artist Free Hand Profit, "Killin' The Game" inspired by the "Godfather III" film and many more. The Hype Girls also showcased some of their new accessories that is currently in their recently opened online shop.
HypeGirls.com is an online college-culture magazine, covering college related topics from campuses across the country. HypeGirls.com offers local, national and international content covering Fashion, Music, Culture, Love, Life, Career and more supplemented with campus related content from colleges in Miami to Los Angeles. With a team of over 20+ of the nation's top college journalists, HypeGirls.com serves a hub for everything entertainment for college students everywhere.
Checkout HypeGirls.com for more on the Hype Girls and their services. For interviews or more information contact inquiries(at)8and9(dot)com