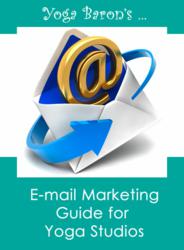 E-mail marketing for yoga studios can deliver a huge return on investment. It's effective when done well, it's inexpensive and it's not time-consuming.
(PRWEB) August 02, 2012
The free guide can be downloaded from the Yoga Baron website at:
http://www.yogabaron.com/free-e-mail-marketing-guide-for-yoga-studios-and-teachers
The 16 page guide covers both the basics and advanced techniques specifically tailored for yoga studio e-mail marketing. Topics covered include getting targeted prospects (future students) to sign up to a studio's e-newsletter, creating sign-up incentives, software to use, list segmenting, and getting high response rates from subscribers.
YogaBaron.com is an online magazine website that provides business and marketing information for yoga studios and teachers. It covers both online and offline marketing techniques for yoga studios (with an emphasis on web-marketing).
YogaBaron also publishes an e-newsletters for yoga studios.
For more information about YogaBaron.com visit: