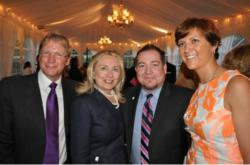 As a family and as a company we at Royal Asscher consider it of paramount importance to support important causes that benefit all of humanity and I am proud that our jewelry can contribute to an important and well-deserving cause such as global equality.
New York, NY (PRWEB) August 01, 2012
Royal Asscher of America's President Lita Asscher was in attendance on Monday night, alongside Secretary of State Hillary Clinton and Sir Elton John at an event thrown by The Human Rights Campaign (HRC) to raise awareness for the Global Equality Fund (a program of the U.S. State Department) and the Elton John AIDS Foundation. The event, held at a private residence in Georgetown, honored Hillary Clinton and Elton John for their enormous efforts battling HIV/AIDS worldwide.
During the high profile event hosted by award-winning actress Sharon Stone, Lita Asscher volunteered to have her one-of-a-kind Stars of Africa floating diamond ring auctioned to benefit the foundations. The ring, containing .60 carats of diamonds floating in silicone in a sapphire globe, was sold for an impressive $16,000 amongst a crowd of eager bidders.
Lita Asscher, President of Royal Asscher of America and 6th generation of her family to enter the business comments, "As a family and as a company we at Royal Asscher consider it of paramount importance to support important causes that benefit all of humanity and I am proud that our company's jewelry can contribute to such an important and well-deserving cause such as global equality."
For more information on Royal Asscher, visit http://www.royalasscher.com.
Editors notes:
CONTACT
Contact details for PR support:
Nicole Porto
Nicole(at)royalasscher(dot)com
Tel: +1 510 388 5951
IMAGES
High res available upon request
ABOUT ROYAL ASSCHER DIAMONDS
Founded in 1854, Royal Asscher Diamond Company is run by The Asscher Family. The Asscher Family dynasty to this day continues to have an influence on the diamond industry. Joseph Asscher, at the request of King Edward VII, cut the largest diamond ever found, the famous 3,105-carat Cullinan diamond. Royal Asscher has also made its mark by refusing to work with conflict diamonds that originate from war torn countries that are unethically sourced and sold to fund warfare and civil destruction. Royal Asscher only sources diamonds from nations that are fully compliant with the Kimberly Process, an international diamond industry initiative to stop the flow of conflict diamonds. One of the company's founding fathers, Edward Asscher was one of the forefathers of this initiative, Royal Asscher requires that all of its diamonds are labeled by the government at the origination point and securely sealed during transportation.
Royal Asscher created their own signature patented cut in 2001, which has 74 facets, that's 16 more than the traditional cut diamond. It is based on their original Asscher cut dated 1902. The innovation and skill level of Royal Asscher has been passed down from generation to generation. Now on its 4th generation owners the companies still upholds their reputation for excellence.
The Stars of Africa collection (comprised of rings, earrings, pendants and cufflinks) consists of diamonds encased within fluid-filled sapphire domes, allowing the diamonds to float freely like snowflakes in a snow globe. The result is cascading diamonds that emit light, fire and beauty, creating a truly mesmerizing effect.
Royal Asscher Diamonds are not only a favorite amongst royalty; celebrities also covet these specialty pieces from their contemporary line Stars of Africa. Celebrities who love Royal Asscher diamonds include Sofia Vergara, Megan Fox, Kate Bosworth, Carrie Underwood, Emily Blunt and Rachel McAdams.
PHILANTROPHY
In 2008 Royal Asscher created the Star of Africa line which guarantees a minimum donation of $50,000 to go to the Diamond Empowerment Fund® (D.E.F.) a non-profit international organization founded by Russell Simmons. Donations will sponsor students from Sierra Leone who attend the African Leadership Academy (ALA), founded on the belief that ethical leadership is the key to transforming Africa. Royal Asscher's revenue from the sale of its Stars of Africa line of fine jewelry aims to establish education, healthcare, and self-sufficiency programs in Africa's diamond-producing areas.
Lita Asscher, the president of Royal Asscher of America, noted that "Our partnership with the Diamond Empowerment Fund will allow us to enrich the African Leadership Academy by providing students with the opportunity to gain an education in areas of leadership and entrepreneurship that will prepare and propel each exceptional mind to support their continent. Giving students the tools to become ethical leaders, Star of Africa will help D.E.F. and the ALA to develop political stability and economic development in diamond-producing countries."
The Stars of Africa collection represents one of the greatest innovations in the jewelry industry- floating diamonds. Diamonds that are encased in a fluid filled sapphire dome move around freely which creates an effect that is utterly mesmerizing. Stars of Africa are available in white, yellow and rose gold. Royal Asscher's beautiful modern twist on traditional diamond design is helping rebuild Africa, which makes each piece have an underlying beauty as well. For more information on the Stars of Africa collection please visit: http://www.royalasscher.com/starsofafrica/