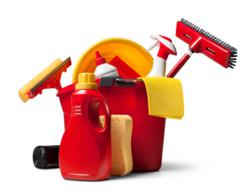 People will spend hours cleaning their home and we can accomplish the same thing within a few hours.
Breckenridge, CO (PRWEB) August 08, 2012
Believe it or not, Fall is on it's way already here in Summit County, and that means that all the small DIY, cleaning projects need to be completed. It's just too hard to accomplish much when the snow is flying, so take advantage of all those honey-dos now. Here's a list of items for consideration with recommendations from Summit Janitorial Services:
Stone, Tile and Vinyl Floors - When renting a property, replace worn out tiles, treat the stone with a fixative that resists scuffing and scrapes.
Dusting - the blades of the fan, the upper recesses of the beams, all those high places that have been avoided, now have an accumulation of dust bunnies that can't be ignored any longer.
Mini-Blinds - run a finger along those blinds and it's entirely possible that they didn't pass the white glove test. For a fee, companies will come in and wash those blinds.
Upholstered Furniture - how about finally having the furniture cleaned professionally? Most people put it off for years, but now is the time.
Carpets - this is a perfect time to either rent a piece of equipment to steam clean or to hire someone to come in and do the job. This is one of the best ways to completely revitalize the rental abode.
Walls - there are fingerprints on walls and instead of painting, why not simply clean them?
Glass - Windows - Mirrors - Leave the windows and glass to the professionals. They have equipment that reaches the tallest window and it's amazing at how refreshed a home looks with clean mirrors, windows and glass.
Kitchen - Detail the range, oven and microwave. Clean all the cabinets, take the silverware out of the drawers and clean the holders. Remove all the parts, soak, scrub and return the pieces to their original state. Run the oven cleaning mode or use Easy Off to get the deep grime.
BBQ Grill - Ugh. It's time to do a deep cleaning and that often means taking it apart and soaking the various parts.
Refrigerator - Assess the situation. Part with old food and clean out that mess. There are olives, mustard and pickles that have been in the door for at least a year.
Take a Realistic View: "My time is worth more to me than cleaning my home," then call one of the local cleaning operations in Summit County. Javier Lopez, manager of Summit Janitorial Services said, "People will spend hours cleaning their home and we can accomplish the same thing within a few hours. We bring as many as 8 people at one time. It's a cleaning tornado! They don't understand how quickly we get it done and once they see the results, they have us come back regularly. We have a special going on now called 'Cleanapalooza' and we clean everything from the kitchen to the garage. We save people time and money."
Winter is quickly approaching. Feel inspired and get ready to conquer the daunting task of cleaning the rental property. Roxanna of Summit Janitorial says, "If you can't deal with the thought, then give us and call and schedule a day at the spa while we clean your place from head to toe! We'll give your house a spa treatment!"