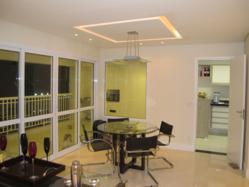 The effort has paid off and we are proud to provide complete corporate apartments in Sao Paulo
Tampa, FL (PRWEB) August 01, 2012
Today, Avenida Suites, Inc officially announced the opening of its first international office in Sao Paulo, Brazil. Avenida Suites is now providing travelling executives, relocating expat families, and individual travelers comfortable and cost effective temporary housing with a choice selection of corporate and furnished apartments in Sao Paulo. Other cities in Brazil will quickly be added as Avenida hires and trains local staff and locates suitable accommodations.
On June 4th, Avenida's founders, Dan and Claudia Gorman arrived in Sao Paulo to complete the pre-opening process that began over a year ago. Brazil is one of the fastest growing economies in the world and there is tremendous demand for a full service, local corporate housing and serviced apartment company. The lack of available full size serviced apartments in Brazil has forced most extended stay travelers to settle for small studio type flats or traditional suite hotels without the comforts of separate bedrooms, full size kitchens or other amenities found in a residential setting.
Because of the pace at which Brazil's economy has grown over the past several years, the available supply of quality hotel rooms has been severely strained, resulting in rate increases of more than 20% over the past year alone. These higher hotel rates increase the value of the 30% to 50% savings experienced by choosing a furnished apartment for an extended stay of 30 days or longer.
Avenida Suites is among the first corporate housing businesses to become a fully registered Brazilian business and utilize its own furnished apartments rather than operate as a broker for individual owners or serviced flats. "About 10 months ago we began navigating through the exhausting process of establishing a business entity in Brazil. The effort has paid off and we are very excited to provide complete corporate apartment services in Brazil," says Claudia, who was born and raised in Rio and happy to be back in her native country.
Each corporate apartment in Sao Paulo provides the comfort of one to four bedrooms. Services will include a full complement of furnishings, house goods, cable TV, internet, utilities and housekeeping. The local staff is available 24-hours per day for maintenance issues and to assist with arrival and departure of each guest.
About Avenida Suites
Avenida Suites is a rapidly growing provider of furnished apartments and corporate housing services headquartered in Tampa, Florida. Avenida continues to expand its reach and capability opening new offices in locations around the United States and South America. Its fully furnished and serviced apartments range in size from one to four bedrooms and include a full array of packages to meet the style, budget, and needs of any type of traveler. Avenida's corporate housing services are available for stays of 30 days or longer. For more information on how Avenida Suites may be able to help you or your company with temporary housing or corporate apartment needs in the United States or Brazil call 1-888-553-9943 or visit either website at http://www.avenidasuites.com or http://www.avenidasuitesbrazil.com.