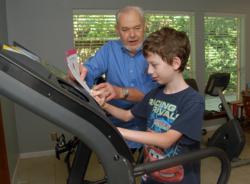 We optimize a brain's ability to focus and process information better and faster. Students with ADD, ADHD and central auditory processing issues often experience huge improvements in reading, math and organizational skills. School becomes much easier.
Conroe, Texas (PRWEB) August 01, 2012
Brain Potential Institute, has begun taking applications for its final summer session to help struggling students with learning problems prepare for the upcoming year. It begins early August and completion is based on the progress of each individual.
This intensive brain-training program is conducted online with the student working one-on-one with trainers via Skype. The program is designed to work in conjunction with the standard school review process that typically is the focus of teachers during the first 6-9 weeks. It is designed to initiate and get brain repair under way prior to the introduction of new material.
"Many kids are dreading going back to school," said Jane Davis, P.T., M.S.H.P, founder and CEO, Brain Potential Institute. "They associate it with late night homework stints, being grounded for not turning in or completing assignments and feeling overwhelmed in the classroom."
After approximately 72 hours of brain training, the student's ability to learn is significantly improved. The program is known to raise IQs by up to 30 points. Additionally, students often jump up to three grade levels in reading and math.
Brain training uses highly targeted exercises to treat learning problems. It works in three ways. First it lays new tracks and connections in underactive parts of the brain. Second, it helps stimulate the normal process of laying down myelin, the fatty insulation surrounding the nerve axons that allow for high-speed impulse transmission. Third, it helps stimulate the release of normal neurotransmitters, which serve as the transmission vehicles though which nerve cells communicate to each other. This is an electrical and chemical process that in a mature brain is optimized.
Brain training has been particularly helpful for those with learning problems exemplified by an inability to focus, retain and store information, follow multi-stepped directions and complete tasks. It works with and without medication.
Brain training also addresses executive functioning skills that include the ability to filter out distractions, and establish and reach goals. These learning problems often are common in people with ADD, ADHD, dyslexia, central auditory processing issues and autism.
"Often the grades a student brings home from school are the least reliable indicator of a student's skill level—particularly in elementary grade levels," said Davis.
"Teachers don't want to discourage students so they often give them higher grades, masking any learning problems."
Davis believes this is why parents tend to wait to get help for their children. Often times, parents are unaware that their child may have a learning problem. Indicators are sometimes ignored as the parent hopes the problem will go away as the child develops. According to Davis, a learning problem, regardless of whether it is caused by ADD, ADHD, central auditory processing issues or dyslexia, does not go away on its own and tutoring is just not enough.
Brain Potential Institute also has worked with many students that were told by the schools that they did not quality for help from the educational system.
Often, Brain Potential Institute's brain trainers find that even students coming home with a 3.8 GPA still may have undetected learning problems. These students may be working harder than necessary for their high grades or grades may be artificially inflated. This happens when students are able to retake failed tests, drop zeros from missing assignments, are given extra credit to bring up low grades or allowed to work in groups where struggling students hide behind stronger ones.
"There are many ways students can get around their learning difficulties where no one would know they exist," said Davis. "No child or teen should have to suffer through this. The key is to get treatment as early as possible, before the child misses too much instruction. Once a brain is repaired, it is very easy to relearn and retain missed information."
However, it is never too late to repair a brain, which is why Brain Potential Institute treats people with learning problems ages 3 through 90.
Screenings are free and are done online. Please visit http://www.brainpotentialinstitute.com or call 877.600.6565 for more information.