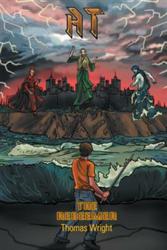 good always trumps evil
Pittsburgh, PA (PRWEB) August 01, 2012
In the Percy Jackson series, 12-year-old Percy learns of his hidden ancestry to the Greek god of the sea, Poseidon. For Harry Potter, the "boy who lived" was in fact a powerful wizard who must battle Lord Voldemort in order to save both the magic world and the human world. A number of stories have been told about a young protagonist destined for greatness, but none are quite like Thomas Wright's new series and debut book, "Ansburry Tales: The Reedemer" (published by Abbott Press).
Ansburry Tales is a fanciful adventure series about 15-year-old Sam Digby. Like most teenagers his age, Sam tries his best to navigate his way through one typical day after another until a surprise visit from a mysterious stranger launches him on the greatest adventure of his life and the road to his destiny.
In the magical world of Ansburry, Sam has a history and a destiny that he can barely begin to imagine – and that destiny will put him in grave danger if he doesn't begin to believe the unbelievable. With danger lurking around every corner, Sam must come to grips with his past and prepare for a fantastical future in "Ansburry Tales: The Redeemer."
The overall theme as Wright describes it? "Redemption, and that good always trumps evil."
While there are a number of books with mystical and magical worlds, Ansburry Tales puts a new spin on the genre. "Instead of the fictitious world being great and beautiful to the character, I made Ansburry a terrible place, filled with death and destruction," Wright explains. "It only comes alive once Sam arrives."
About the Author
Thomas Wright is a member of the Society of Children's Book Writers and Illustrators and enjoys writing young adult novels. "Ansburry Tales: The Redeemer" is book one in his Ansburry Tales series. He currently lives in Pittsburgh with his wife, children and dogs. Visit him online at http://www.thomaswrightbooks.com.
Abbott Press, a division Writer's Digest—the oldest and most respected publisher devoted to the education and advancement of writers—is an indie-publishing imprint dedicated to helping writers bring their literary vision to print. Author Solutions, Inc., a leader in indie book publishing, will fulfill publishing, sales, and marketing services for Abbott Press. For more information, or to begin publishing a book today, log on to abbottpress.com or call 866-697-5310.
###