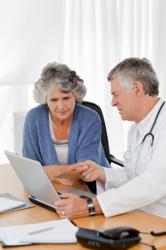 In order to address the needs of patients and providers, we integrated them in our software development process.
Austin, TX (PRWEB) August 01, 2012
Many agree that patient engagement is vital for the adoption of Health IT applications in any healthcare setting. Multiple efforts continue to be done by caregivers, federal government, and software vendors to provide a solid infrastructure and promote the usefulness of Health IT. What are the main challenges that keep patients away from tools that will assist them in their health care?
Challenge #1: The application does not address the patient's needs
Patients want applications that connect them to their healthcare providers, offer significant value, and at the same time are easy to use. In order to provide patient engaging tools, not only healthcare providers and software developers need to be at the design table, patients need to be integrated in the software development process.
Challenge #2: Limited access to applications
A high percentage of the elderly population are not able to access computers or web based applications. The same case applies for children and patients that are dependents due to certain health conditions. Health IT applications need to be innovative enough to facilitate access to these groups of people.
Challenge #3: The health literacy is too complicated
Physicians can make health literacy available to patients through Health IT applications, but this information is not going to be of a great help to patients if they cannot understand it. Applications must provide physicians with tools that enhance communication with patients.
Challenge #4: Fees
The creation of inexpensive applications is imperative for their adoption. Applications should be affordable to any community of patients.
HealthPasskey has solutions to these challenges. "In order to address the needs of patients and providers, we integrated them in our software development process. This really made the difference, because it led us to come up with a more mature and powerful application," stated the CEO of Health Innovators Systems, Luis E. Figueroa. Through the patient portal, patients are able to: 1) Manage their clinical information as well as dependents' clinical information if permission is granted; 2) Book appointments with physicians at the preferred time and date; 3) Receive easy to follow instructions from physicians based on patients' conditions and clinical history; 4) Enhance communication with physicians; 5) Receive text messages and emails as reminders for booked appointments; and 6) Receive recommendations for required health tests and evaluations based on patients' conditions, via text messages and emails. These features and much more are available to all patients, since patient membership is free of charge.
For more information visit Health Innovators Systems' website.