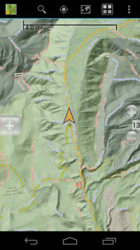 This has become an essential field tool.
Camas,WA (PRWEB) August 29, 2012
Crittermap Software said today that their Android GPS App, BackCountry Navigator, has been used by over half a million paid and demo outdoor enthusiasts. The growth is attributed to the frequent recommendations to friends from experienced users.
The paid Android GPS App, BackCountry Navigator PRO, is currently ranked near the top of paid apps in the Travel and Local category of the Google Play Store. It has over 50,000 regular users including hikers, hunters, and other adventurous users.
The success and popularity of BackCountry Navigator can be attributed to its complete outdoor features. It works without network coverage or data connection. It allows one to preload topo maps, aerial photographs, or even marine charts for use offline in the forest and wilderness areas where there is no network connection. With this app, users can also see their position on previously downloaded maps, access and create waypoints, and make notes and records of their trek.
Users have reported success using the app in both work and play, as Jay mentions in a Market comment. "I wish I bought sooner! In my profession as a geologist and recreational backpacker/hiker this has become an essential field tool."
BackCountry Navigator can replace handheld GPS devices with Android smartphones and tablets, thus giving the users the flexibility to choose their GPS device. It gives them the ease of using only one device in their outdoor activities, saving space, weight, and money.
Dan, a hiker, said, "I used BackCountry up in the Sierra's for snowshoeing. Maps are easy to download for off the network use. In addition, I noticed that it was easy on the battery. Once you try this program, you will wonder why you paid for others."
BackCountry Navigator PRO is available now for $9.99 from the Google Play Store for Android-compatible phones and tablets.
About CritterMap Software
CritterMap Software is based in Camas, Washington and aims to make software and content for enjoyment and safety of outdoor recreations. CritterMap Software is founded by an outdoor enthusiast with experience in both software development and land navigation.
###