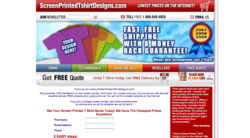 Screen Printed T-shirt Designs has recently brought many major updates and bug fixes to its homepage
Los Angeles, California (PRWEB) August 05, 2012
Screen Printed T-shirt Designs has recently brought many major updates and bug fixes to its homepage, including fixes to the email and newsletter subscription functions. The site has also announced that it is working on developing a blog for the website.
This update has been long overdue and it comes at an opportune time since the website is now managed by Internet managing company Impact1. Since taking over operations of Screen Printed T-shirt Designs, Impact1 has been able bring many welcome changes to the site and has greatly improved the site's web presence.
The bug fixes involve the newsletter subscription button that led users to an empty page, the "Email Us" function that sent requests to a dead address, the bulk order calendar, live chat functions, the old copyright at the footer. All of these bugs have plagued the site since the previous year and Impact1 was brought in to create fixes to these issues.
The coming blog section is also care of Impact1, which will provide timely and relevant written content for the website. These blog posts will also include news stories, editorial, special interest pieces and features to the site. This new section promises to boost the site's web presence significantly and bring more traffic to it. This traffic eventually leads to increased sales for the company through the website.
The site has yet to specify a date for the blog's launch, which they hint would come very soon, possibly in the coming days.
About Screen Printed T-shirt Designs
ScreenPrintedTshirtDesigns.com is an online t-shirt printing service that caters to bulk orders for custom designs and boasts the lowest prices, free shipping, and excellent customer service. The company has 22 years of experience in custom t-shirt screen printing and is the recipient of the Best Sceenprinter Award for 3 consecutive years.