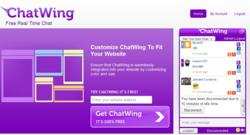 New York, NY (PRWEB) August 02, 2012
The Chatwing Development Team is now pushing the standards of web communication by launching a chat box capable of providing direct links for all users. The direct link feature allows a user to create his personalized direct link and send it to his friends across the Internet. With a direct link feature, the user can now engage in a centralized group chat. This is useful for users who are managing small groups of people online.
Chatwing's free chat box has been introduced in different blogging communities. The chat tool may appear simple for any blogger, but this simplicity has contributed to its online rank. Simply put, people don't like applications with complicated commands and processes. Additionally, the Chatwing chat app has the potential to increase the visibility of a blog by turning it into a lounge filled with interesting topics. A single Chatwing chatroom can also hold up to 600 users, yet the dev team is planning to upgrade it to 1000. With this, more users will be able to chat with each other.
Installation of the Chatwing free chatbox also doesn't take much time. Many bloggers have attested that a Chatwing widget can be installed in just seconds. To install the widget, the user must first register his blog's domain name. After that, he can now proceed to the customization process. He can resize the widget and pick a suitable color. Once everything is complete, the user can now retrieve the HTML code and embed it to his blog or website. Chatwing's free shoutbox is compatible to different blogging communities, such as Wordpress, Livejournal, and Jimdo.
The Chatwing team has always been dedicated to the path of excellence. To mirror this quality, Chatwing's developers will work hard in maintaining the effectiveness of the chatbox. The Chatwing team has also projected that there will be hundreds and thousands of signups as soon as the direct link feature has been introduced in different online sectors.
About Chatwing.com
Chatwing.com has developed live chat software for websites and blogs. It caters to different online communities due to its high rate of connectivity. Everyone can create a customizable live chat widget in 1 minute or less. Users have the ability to customize the size, color, and fonts of the chat product. The ability to chat via social media accounts such as Facebook and Twitter enable Chatwing to offer a personal and unique real-time experience to all sites. Chatwing is 100% free and very easy to use.