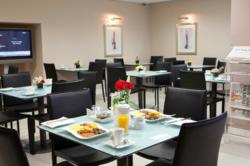 London, United Kingdom (PRWEB UK) 4 August 2012
It is an icon for London's world famous hospitality service which is a blend of warm traditional welcome, majestic luxury and comfort in accommodation and complete convenience in the form of a host of modern amenities.
But that's not all that the properties under the umbrella of Shaftesbury Group of Hotels could offer. Every Shaftesbury Group hotel is strategically positioned in different corner of the city offering easy accesses to prime spots in London which include tourist spots, business centers, railway terminus and Airport. Moreover, many of the Shaftesbury Group Hotels make it easy for visitors to reach the venues of different big events that enrich the culture and arts in London. Here is a list of hotels and events that they offer easy accesses to:
Hotel: Shaftesbury Metropolis London Hyde Park
Event: Barclaycard Wireless Festival 2012
Barclaycard Wireless Festival is a great event for people who love music and dance. This time popular artistes like Rihanna, Drake and Jessie J, along with lots of talented artistes will take the multiple stages to perform and entertain the crowd. Diverse events of dance, electronic, urban, alternative and indie music will be there to add to your charm. Besides there will be lots of food and drink stalls to taste different items. This time Barclaycard Wireless Festival is being held at the Hyde Park and Shaftesbury Metropolis London Hyde Park offers a very easy access to the venue through the underground railway service. You can take a train for Green Park or Hyde Park Corner station for reaching the venue.
Hotel: Shaftesbury Premier London Paddington
Event: BT London Live: Big Screens Showing London 2012 Games
You need not to worry if there is no Olympics ticket in your hand. You can now enjoy live actions on a giant screen. Special arrangements have been made in different centers in London City to provide people and guests a scope to enjoy the live actions in spite of getting access to the stadiums. Three big screens have been installed at Hyde Park, Trafalgar Square and Victoria Park and will keep displaying live Olympic actions up to September 9 starting from the Opening Ceremony Celebrations on July 27. To entertain the spectators further there will be arrangements for some sport, music and entertainment events at the venues. Shaftesbury Premier London Paddington is a luxurious accommodation property at the heart of the Paddington area, the communication hub of London and it offers a very easy access to all the three venues through the Paddington underground railway terminus.
Hotel: Shaftesbury Premier London Notting Hill
Event: Farnborough International Air show 2012
The Farnborough International Air show is one of the most iconic global aviation exhibitions in the world and it takes place every year to excite people with some amazing air displays, flight displays and demonstration of latest technology that are being used in the aerospace industry. Besides, the show features seminars and exhibits. Every year Farnborough Air Show attracts huge crowd at Hampshire and since it's the Olympics year, you can expect a bigger population of spectators. Situated right at the center of the affluent Notting Hill area in London, Shaftesbury Premier London Notting Hill is the best hotel for reaching the venue fast. You can take a train for West Brompton or Earls Court Tube underground railway station.
Hotel: Shaftesbury Hyde Park International
Event: London Camden Fringe 2012
Camden Fringe is an event that showcases a great collection of performances of different genres like comedy, poetry dance and theatre. Hundreds of performers demonstrate their talents and skills at five venues across North London. Camden Fringe comes as a great opportunity for budding performers to demonstrate their qualities and catch eyeballs of experts. You will surely enjoy the comedy shows since they are scripted to perfection to make people laugh out loud. London Camden Fringe is scheduled for July 30 to August 26 and the venue is Camden People's Theatre. The venue is fast reachable from Shaftesbury Hyde Park International, one of the luxurious properties under the Shaftesbury banner. You can reach the venue by taking a train from the nearest station to Warren Street.