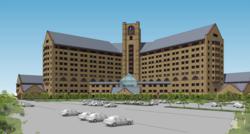 It's only through the work of so many people that we are able to deliver on a promise we made to transform health care by leading the way and building for the future.
Fargo, ND (PRWEB) August 01, 2012
Sanford Health leaders have broken ground on the largest private construction project in the history of the Dakotas, the new Sanford Fargo Medical Center. Set to open in 2016, the medical center is a $541 million project, one of the largest in the nation to break ground this year.
After continued evaluation of local market needs, the project's size has grown since its initial announcement in 2010. In 2011 alone, Sanford Fargo saw a nine percent increase in hospital admissions. Emergency center visits are up by eight percent in the past year and Sanford continues to see growth in deliveries, outpatient surgeries, and heart surgeries.
As a state, North Dakota is booming. In 2005, there were 4,500 oil workers in the state; in 2012, there are more than 35,000. In 2011, almost 36 percent of North Dakota's population lived in an area experiencing primary care shortages; about 15 percent higher than the national average. About 58 percent of Sanford's downtown Fargo campus patients come from outside the metro area and a new medical center is critical in supporting those patients – and the continued growth in North Dakota.
"This is an incredible and historic day for Sanford Health. And it's only through the work of so many people that we are able to deliver on a promise we made to transform health care by leading the way and building for the future," said Kelby Krabbenhoft, president and CEO of Sanford Health. "Sanford Fargo Medical Center will be a four year phenomena of activity, jobs, economic impact and momentum for the entire region. When you look at the entire picture, Sanford is investing $200 million per year for the next five years in construction projects across our footprint, for a total $1 billion investment. As an organization with over $3 billion in annual revenues, we are able to take on projects of this size and scope. Fargo's new campus will bring unprecedented medical care and investment into North Dakota and neighbors in South Dakota and Minnesota."
The medical center will serve over 4,200 patients every day and will be located on the south side of I-94 between 45th St and Veterans Boulevard in southwest Fargo. The 10 story project will include 460 hospital beds, 12 heart catheterization labs and interventional rooms, 32 operating rooms and 51 emergency department bays. By 2018, the new medical center will include more than 260 practicing physicians working in 48 different specialties. Sanford currently employs more than 7,500 staff in Fargo/Moorhead and the medical center will create an additional 2,000 full-time, permanent positions.
Approximately 600 construction workers from the area will be employed as local and regional contractors for the project. The size and scope of the building is significant – the facility will cover 1.3 million sq. ft. which equates into 29.8 acres or 22 ½ football fields. The space will include 737 bathrooms, 347 clinic exam rooms, 77 clinic procedure rooms, 1,333 windows and 2.2 million bricks.
Interior spaces have been designed to separate staff and patient areas wherever possible to reduce noise and interruptions for patients and families. Patient transfers, food delivery, supply stocking, etc. will occur in separate zones to maximize the patient's experience. In order to accommodate patient convenience, the design will include a separate discharge door for patients leaving the hospital after their stay. Expecting mothers ready to deliver will be directed to arrive at a separate Women's entrance with an elevator, taking them directly to the labor and delivery area, expediting the admitting process.
Emergency Center services will be located at the new medical center with a helipad directly above to allow critically ill patients quick access to the care they need. The new medical center's proximity to both I-94 and I-29 will also allow for increased response times for local and regional ambulances.
Upon completion of the new medical center, Sanford Health will continue to remodel the existing downtown campus and expand the Roger Maris Cancer Center. The downtown campus will occupy over 600,000 sq. ft. with 220 private rooms and is expected to employ 2,000 staff members. Services at the downtown campus will include behavioral health, palliative care, physical rehabilitation and eating disorders.
When the new medical center is complete, Sanford Health will house 680 beds in the Fargo/Moorhead community.
Media Files

Download medical center Photos
An animated, fly over video of the medical center is available for download. Contact Sanford Media Relations for a copy.
Download medical center Frequently Asked Questions
View the Sanford Fargo Medical Center construction website
About Sanford Health
Sanford Health is an integrated health system headquartered in Fargo, ND and Sioux Falls, SD and consists of two long-standing organizations that merged in 2009. Sanford is now the largest, rural, not-for-profit health care system in the nation with locations in 126 communities in seven states. In addition, Sanford Health is in the process of developing international clinics in Ireland, Ghana, Israel and Mexico.
Sanford Health includes 35 hospitals, 140 clinic locations and nearly 1,200 physicians in 70 specialty areas of medicine. With more than 25,000 employees, Sanford Health is the largest employer in North and South Dakota. The system is experiencing dynamic growth and development in conjunction with Denny Sanford's $400 million gift in 2007, the largest gift ever to a health care organization in America, and then a $100 million gift in 2010. These gifts are making possible the implementation of the several initiatives including global children's clinics, multiple research centers and finding a cure for type 1 diabetes and breast cancer. For more information, please visit sanfordhealth.org.