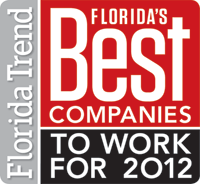 "Knowing this award is based largely on employee feedback means we're definitely doing something right." – Tom Wallace, CEO of VectorLearning
Tampa, FL (PRWEB) August 02, 2012
VectorLearning, comprised of premier online continuing education and corporate training providers RedVector, Care2Learn and SmartTeam, recently joined a select list of local businesses voted the Best Companies to Work for in Florida by Florida Trend magazine. A total of one hundred companies in three size categories—Small, Midsized, and Large—were selected; VectorLearning ranked 31st in the Midsized companies category.
"Winning an award like this is such an honor," says VectorLearning CEO Tom Wallace. "At VectorLearning we believe every team member should feel appreciated for the unique talents, insight, and innovation he or she brings to the company as a whole, and knowing this award is based largely on employee feedback means we're definitely doing something right."
The winning companies were selected following a comprehensive survey process that included a preliminary questionnaire about company policies, practices and demographics as well as an anonymous employee survey with multiple choice and open-ended questions focused on eight themes: leadership and planning; corporate culture and communications; role satisfaction; work environment; relationship with supervisor; training and development; pay and benefits; and overall engagement.
The Best Companies to Work for in Florida program was created by Florida Trend and Best Companies Group and is endorsed by the HR Florida State Council. To be considered for participation, companies or government entities had to employ at least 15 workers in Florida and have been in operation at least one year. For a complete list of the 2012 Florida Trend Best Companies to Work for in Florida, visit: http://www.floridatrend.com/best_companies.asp.
About VectorLearning
VectorLearning sets the standard for excellence in online continuing education and staff training for the AEC, senior care, and small to medium business market. Through our innovative web-based Learning and Performance Engine, we offer individual courses as well as large-scale corporate training solutions for a broad range of companies featuring customizable and easily accessible online universities with robust tracking and reporting features. With an online library exceeding 1,500 courses authored by more than 200 subject matter experts, VectorLearning serves more than 300,000 working professionals in all 50 states and Canada. The recipient of numerous community honors and industry awards, VectorLearning was founded in 1999 and is headquartered in Tampa, Florida. For further information call 1-866-546-1212 or visit http://www.VectorLearning.com.