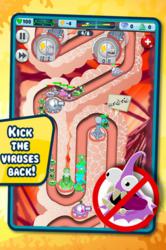 Paris, France (PRWEB) August 01, 2012
Do you have the guts?
After defending the heart, lungs, muscles, kidneys, and spleen, players now have to defend the stomach for three whole levels.
At this stage in the game, beyond delivering nutrients and destroying viruses, players now also face changes in blood flow. By sending the nutrients in the right direction to the different towers, players can save the organ from the viruses.
In Case of Emergency: take Pills!
To help players who are stuck in a particularly difficult level, Heliceum's "scientists" developed some new anti-viral "pills" which work as an ingame bonus:
a defibrillator to destroy all the viruses on the screen,
an adrenaline rush to improve towers' defensive abilities,
an X-ray machine to help players get ahead by revealing clues.
Emergency Mode: It just won't stop!
Emergency Mode only unlocks after winning the first three chapters in Adventure Mode, and was created for experienced players. A new chapter challenges players with a never-ending wave of viral attacks!
Human Defense renews tower defense genre with an injection of puzzle game. Taking place in the human body, it empowers you to protect the vital organs against sneaky viruses and is available now for iPhone and iPad in the iTunes App Store at: http://itunes.apple.com/app/human-defense/id513228903?mt=8
For more information or media inquiries, contact Mark Johnson of appshout! on behalf of Heliceum at +1 408 757 0156 or press(at)appshout(dot)com. Alternatively, visit the official website: http://heliceum.com/en/1-human-defense-defense
To view a video trailer and images of the game, please click on the link below:
http://appshout.com/apps/human-defense/
About Heliceum
Set up by Adrien Dassault in 2011, Heliceum is a company specialized in the development and publishing of digital content for smartphones and tablets. The team is made up of passionate professionals from the video game and Web industries. Heliceum is committed to creating innovative interactive applications, video games and entertainment.
For more information, please visit the official Website http://www.heliceum.com
Follow Heliceum on twitter: @Heliceum