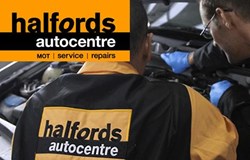 The company has announced a 25% increase in the number of apprentices it expects to take on in 2012. This is in addition to the 60% growth the programme has already experienced over the last two years
London, UK (PRWEB UK) 1 August 2012
After completing a three year course, 24 apprentices have now kick-started their career with a permanent employment contract at Halfords Autocentres, the UK's leading independent car servicing (http://www.halfordsautocentres.com/car-servicing/), repair, tyre (http://www.halfordsautocentres.com/tyres/) and MOT network (http://www.halfordsautocentres.com/MOT/).
Each apprentice yesterday received their NVQ Level 3 in light vehicle technology and a full-time job at Halfords Autocentres after successfully completing the course.
Bill Duffy, CEO of Halfords Autocentres, attended the ceremony to present graduates with their certificate and congratulate them on their achievement at ProVQ's new training facility at Atcham Business Park in Shrewsbury.
Speaking at the ceremony, Bill Duffy said: "I'm very proud of our apprentice scheme which has been running for more than 20 years. In this time we've had more than 1100 talented and enthusiastic young people join Halfords Autocentres."
"Today's graduates have the opportunity to work for us as technicians or join the management training scheme. They will also go on to become accredited technicians under the voluntary Automotive Technician Accreditation (ATA) scheme. We are always looking for outstanding mechanics and look forward to recruiting a further 82 apprentices in September in partnership with ProVQ," Bill continued.
Halfords Autocentres operate the largest automotive aftermarket apprentice programme in the UK. Currently employing 180 apprentices, representing around 10% of its technician workforce, and taking on an additional promising youngsters each year to replace those graduating.
The company has announced a 25% increase in the number of apprentices it expects to take on in 2012. This is in addition to the 60% growth the programme has already experienced over the last two years. Over 1000 young technicians have graduated from the scheme in the 20 years since it was established.

Notes to Editors:
For further information, please contact The Red Consultancy:
0207 025 6435 halfordsteam(at)redconsultancy.com
About Halfords Autocentres
With over 260 centres nationwide, Halfords Autocentres is the UK's leading independent car servicing, repair, tyre and MOT network. Now part of the Halfords group, our name may be new, but our centres have been a feature of the towns and cities of Britain for a decade or more.
Halfords Autocentres provides dealership quality work at affordable prices to around 750,000 customers every year, with over 8 out of 10 saying that they would recommend us to a friend. Our expert service is backed with both a quality and price guarantee: work is guaranteed for 12 months or 12,000 miles, and we promise to match any price quoted locally like for like. See website for terms and conditions.