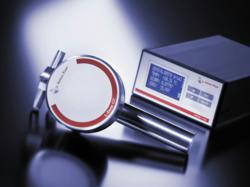 Ashland, VA (PRWEB) August 01, 2012
Anton Paar has expanded the L-Dens 4x7 portfolio of process density meters by releasing the L-Dens 437 E. The system measures density by determining the frequency of an oscillating u-tube made of Hastelloy. The excellent chemical resistance of Hastelloy makes the meter ideal for aggressive applications in the chemical industry. The new L-Dens 437 E is cost efficient, accurate, compact, and has a variety of process connections available.
The L-Dens 437 E expands the L-Dens 4x7 family of density sensors, which combine an accuracy of 1x10-4 g/cm3 with a compact design. The L-Dens 437 E model connects to an evaluation and display unit which calculates several parameters including: density, specific gravity, concentration of various acids / bases, and various other units based on density. The evaluation unit also provides Modbus, HART, various other bus communications, and 4-20 mA outputs to make connection to any flow computer or PLC extremely easy.
L-Dens 4x7 density meters have various options for installation. Compression tube fittings, DIN, and ANSI connections are all available as standard, with custom-made connections also possible.
Here are just a few of the possible applications:

Density measurement
Concentration measurement of acids and bases
Mass flow rate determination in combination with a volumetric flow meter
Product differentiation and/or phase separation
Product blending
Quality control
Fiscal measurements / custody transfer
For more information on the new L-Dens 437 E, please contact Anton Paar at 1-800-722-7556, or visit their website at http://www.anton-paar.com.