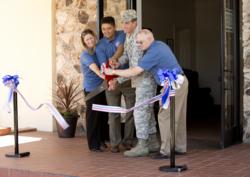 We have an amazing facility with new gaming equipment, TVs, free WiFi- everything needed to lift the spirits of the airmen and military families of Travis Air Force Base.
Fairfield, CA (PRWEB) August 01, 2012
Airmen and military families enjoyed good food and great company today with the grand opening of the relocated and renovated USO at Travis Air Force Base in Northern California.
The USO center, which has been a fixture at Travis Air Force Base for the past 28 years, was relocated to a larger and more centralized space. The move was made to better serve the young airmen living in dormitories and military families staying in temporary facilities both located within walking distance of the new USO center. With the move, the USO center gained 1,000 square feet, now boasting more than 2,800 square feet of space and offering active duty military and their families access to new computers and laptops with free Internet connectivity, United Through Reading's Miltiary Program, snacks and other USO programs and services.
During the ceremony Col. Dwight Sones, 60th Air Mobility Wing Commander, for Travis Air Force Base fondly reflected on his first memory of the USO - a visit to the USO New York City downtown with his dad where the volunteers made him feel comfortable and at home in a big city. "I will tell you, amongst military members there are few symbols that we all recognize universally…the USO is such a symbol, whether you be at Travis Air Force Base, whether you be at Dover Air Force Base or whether you be overseas- know there are folks there that love you and care for you as military members and military families. That's what we have here in our USO team, not just at Travis but throughout the world."
This location joins the USO Bay Area's other two centers at San Fransisco Airport and San Jose Airport to support USO operations and outreach to the thousands of service men and women and military families in the Northern California region.
"Opening the doors today was so exciting for the staff, volunteers and the entire USO family," said Jennifer Castillo, Travis Air Force Base Center Manager. "We have an amazing facility with new gaming equipment, TVs, free WiFi- everything needed to lift the spirits of the airmen and military families of Travis Air Force Base."
The new USO Center will also offer programming and services to the base's more than 10,000 active duty and 9,000 family members including world class entertainment and family events such as Sesame Street/USO's Experience for Military Families which will be performing for hundreds of families at the base on Saturday, August 4th.
Travis Air Force Base USO will be open daily from 9:00am to 9:00pm.
The USO operates more than 160 locations worldwide with a presence on military installations, in airports, as well as remote forward operating bases in Afghanistan. Last year, USO locations were visited nearly 8-million times by troops and their families.
Click here for photos from the event as well as full press kit and additional information about USO operations in the Bay Area.
About the USO
The USO (United Service Organizations) lifts the spirits of America's troops and their families millions of times each year at hundreds of places worldwide. We provide a touch of home through centers at airports and military bases in the U.S. and abroad, top quality entertainment and innovative programs and services. We also provide critical support to those who need us most, including forward-deployed troops, military families, wounded warriors and their families and the families of the fallen.
The USO is a private, nonprofit organization, not a government agency. All of our programs and services are made possible by the American people, support of our corporate partners and the dedication of our volunteers and staff. In addition to individual donors and corporate sponsors, the USO is supported by President's Circle Partners: American Airlines, AT&T, Clear Channel, The Coca-Cola Company, jcpenney, Kangaroo Express, Kroger, Lowe's, Northrop Grumman Corporation, Procter & Gamble, and TriWest Healthcare Alliance and Worldwide Strategic Partners: BAE Systems, The Boeing Company, Lockheed Martin, and Microsoft Corporation. We are also supported through the United Way and Combined Federal Campaign (CFC-11381). To join us in this patriotic mission, and to learn more about the USO, please visit uso.org.