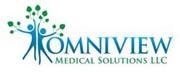 "The partners at OmniView feel strongly about giving something back to the community, especially during these tough economic times."-Tom Cook
Pompton Plains, NJ (PRWEB) August 01, 2012
It is a yearlong program with no ceiling on the amounts donated. The partners at OmniView feel strongly about giving something back to the community, especially during these tough economic times. These charities were chosen solely on their mission, rating and percentage of donations used directly towards their mission. We are allowing anyone who purchases a copy of 835 Solution™ to designate via a promo code a $100 donation from OmniView to one of the following charities.
National Jewish Health- NJHEALTH (http://www.nationaljewish.org)
Texas Children's Hospital-TEXAS (http://www.texaschildrens.org)
Operation Homefront-OHUSA (http://www.operationhomefront.net)
PA Connecting Communities-PACC (http://www.paconnectingcommunities.org)
PlaySmart-PlaySmart (http://www.playsmart.org)
For a limited time OmniView is offering a $100 discount off the purchase price to jump start our charity drive. Upon check out, enter the charity promotional code and the purchaser will be charged $299, a $100 savings. From the $299 purchase, OmniView will donate $100 to the charity designated and the purchaser will receive an acknowledgement from the charity via e mail.
About OmniView Medical Solutions: Our software 835 Solution™ is an invaluable tool to the medical industry allowing the user to read, organize, print, search and export any HIPAA 5010 compliant ANSII 835 files. With the industry changing and files being sent electronically, 835 Solution™ enables users new to the electronic age the ability to become 5010 Compliant. 835 Solution will lower your billing cycle and quickly identify rejections getting you paid faster.
###
If you would like more information, or to schedule an interview, please contact James Carruthers at 973-800-2449, or email at jcarruthers(at)835solution(dot)com .