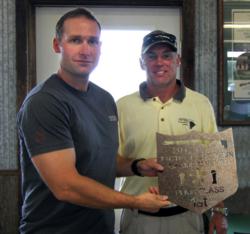 This competition is much more than shooting. It's about physical fitness, focus and mindset.
Montezuma, IA (PRWEB) August 02, 2012
Hot off of their recent championship efforts, Brownells- sponsored Noveske Shooting Team members Rob Romero, Jansen Jones, and Katie Harris have added yet another first-place notch in their gun belts after this past weekend's action at the Del-Tone/Luth Gun Club in St. Cloud, MN - site of the Nordic Tactical Shotgun Championships.
Considered to be the premier tactical shotgun event in the country, the 13-stage match – held July 28-29, 2012 - required competitors to negotiate and deal with real-world obstacles/situations. These included crawling through a make-shift tunnel, climbing a two-story tower, clandestine problem solving, and carrying objects, all the while engaging a multitude of targets from awkward positions using all types of shotshells.
Top-tier teams represented included those from Benelli, Hornady, R & R Racing, Stag Arms, XRail/RCI, and many more.
After the smoke cleared, Jones repeated his last year's top-shot performance in the Pump Division, while Romero and the 17-year-old Harris grabbed their accolades in the Tactical Division. Romero took home the top-gun overall; Harris earned the High-Junior designation.
"This competition is much more than shooting," said Jones. "It's about physical fitness, focus and mindset. These matches are particularly enjoyable as they require multi-tasking and are more like a real-world scenario."
About Team Noveske
Founded in 2009 by Jansen Jones and Rob Romero, the Noveske Shooting Team travels across the United States competing in professional-level 3-Gun and Multi-Gun competitions.
About Brownells
Founded in 1939, Brownells is an Iowa-based, family-owned company that supplies more than 75,000 firearms parts, accessories, reloading components, gunsmithing tools, and ammunition to armorers, gunsmiths, and shooters worldwide. In addition to their industry leading 100% lifetime guarantee on EVERY product sold, their staff of veteran Gun Techs are available to assist customers with any need – free of charge. There are no minimum order sizes or fees. To place an order, or for more information, call 800-741-0015 or visit http://www.brownells.com.