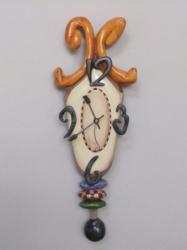 Somerville, MA (PRWEB) August 01, 2012
Blue Cloud Gallery, a unique art and handcraft gallery in Somerville, Mass., recently announced that it will be featuring the work of artist Christine Cachia Cummings during the month of August. The artist is renowned for her fanciful sculptured wooden clocks. Her clocks are sculpted from one solid piece of basswood into playful, intertwining colorful organic shapes reminiscent of Dr. Seuss illustrations. The fun continues on the reverse side which is carved just as finely as the front. Christine designed a swing door allowing easy access for a quick time change. The various shapes work together in a harmonious and lyrical manner. Her clocks are beautiful works of art in addition to being functional timepieces.
Cummings graduated from the Swain School of Design with a Bachelors of Sculpture Degree as well as receiving a Bachelors Degree in Art Education at the University of Massachusetts.
"I am passionate about creating; it is my being; my authentic self!" says Christine Cachia Cummings. "When I walk into my wood studio, the smells evoke this stirring inside me to create! When I hold a brush in my hand, I breath easier...I am happiest when I am listening to my inner self, creating art. This is where I begin my journey: picking up the pencil and letting the energy flow out of my finger tips onto the page. From there, the two-inch sketch will lead to a much larger, 20-inch sketch onto a huge chunk of wood. My family are my inspiration. Having faith in God has given me strength to pursue this somewhat crazy road. We all are given the gift of time...I choose to live it with Love, Happiness and Passion." Her work is in private collections all over the world. Christine also creates custom orders for weddings, graduations and even music studios.
"Each clock has its own personality. They are fun, cartoon-like and charming! Looking at them reminds me of Alice in Wonderland," said owner Betsy Lenora. There will be a collection of Christine Cachia Cummings' work at Blue Cloud Gallery throughout the month of August. "Bring the kids to see them after a day at the beach." You can view photos of Christine's clocks at http://www.bluecloudgallery.com.
About the company:
Blue Cloud Gallery, located in the heart of Ball Square, Somerville, invites the public to explore the many interesting handcrafted gifts created by local artisans. This unique store, owned and operated by fine art photographer Betsy Lenora, supports local artists and helps the community discover fine artwork. As a premier provider of art for sale in the Boston area, Betsy takes pride in the local artists and their art she represents. Come and be inspired by the ever-expanding array of fun and functional items designed, created and produced to delight every visitor. For more information visit her website at http://www.bluecloudgallery.com.