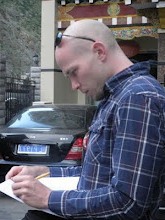 (Boudin's) ...raw perspective provides a fresh take on subjects too often politicized for their respective audiences.
Nashville, TN (PRWEB) August 02, 2012
Recently, The Core of Education's Rod Berger released a double-portion of insight related to the K-12 teacher evaluations. His Core of Education Blog reflected on "Teacher Evaluations - Where Are We Now?" while his Core of Education Podcast took "A Raw Look Into K-12 Faculty Lounges" with James Boutin.
Boutin is a highly-followed commentator and educator at the Academy of Citizenship and Empowerment in the Highline School District in the Seattle, WA area. His popular blog, "An Urban Teacher's Education" is widely read by educators throughout the nation. James brings his diverse experiences in education, both domestic and foreign, to his commentaries on curriculum development, ESL instruction, and general secondary instructional strategies.
"It was exciting to meet James and hear his views on unions, teacher evaluations, professional development and the training of early-career teachers," says host Dr. Rod Berger. "His raw perspective provides a fresh take on subjects too often politicized for their respective audiences."
The podcast inspired Rod to extend the subject into his blog, discussing the state of K-12 teacher evaluations in "Where Are We Now?". Dr. Berger's interest in the field is further fueled by his pilot study involvement with RANDA's teacher observation tool for mobile devices, TOWER. A video featuring Dr. Berger is featured in a new TOWER video discussing administration and reporting on their mobile teacher observation solution.
About TOWER System and TOWER Mobile
RANDA's TOWER System (Teacher Observations, Walkthroughs, Evaluation and Reporting) was written with educators for educators, with the benefits they wanted the most:
‣ Paperless. Observers and administrators save time. Observation quality and accuracy improves. Data is accessible and usable.
‣ Manageable. Straightforward observation and walkthrough scheduling. Trouble-free progress monitoring.
‣ Easy! Simple to learn. Simple to operate.
‣ Mobile. Synchronization to TOWER Mobile native apps offer complete mobility and security without 100% Wi-Fi coverage.
‣ Rubric agnostic! Flexible, to change as your state requirements change.
About RANDA Solutions
RANDA Solutions is an INC. 500 software firm based in Nashville, TN serving the education sector. RANDA acquires, manages and utilizes data providing administrators and teachers a variety of education intelligence: Student Data (student identification, student demographics, summative and formative assessments, student growth, course completion, and college readiness), Educator Data (educator identification, educator demographics, professional development/continuing education, teacher student data link, value added assessment alignment, and teacher effectiveness), and Third-party Data (community demographics, school climate, early warning data, etc.). Historical and live data reporting, along with additional customized content, is delivered via RANDA's secure web portals and integrates seamlessly with RANDA's cross-platform mobile applications for iPads and Android devices.