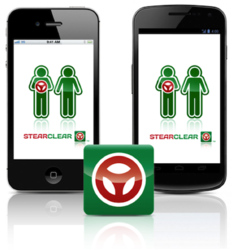 We're not a taxi. We drive your car home when you can't
Ridgewood, NJ (PRWEB) August 08, 2012
There's a new way for residents of Northern New Jersey to get home after they've had a few drinks. It's called StearClear; A designated driving service that drives customers home in the comfort of their own car. As Regional Director Matt Elling puts it, "We're not a taxi. We drive your car home when you can't." Although there are some mom and pop driving services with a similar concept, what sets StearClear apart is that it uses a smartphone app.
A driver can be scheduled beforehand or requested immediately. In addition to the convenience of being able to drive one's own vehicle to a bar, restaurant, or country club, etc…The app makes the process of arranging the ride extremely simple. Using the GPS a list of nearby bars and restaurants can be chosen from which to be picked up from. An address can then be added and saved as a destination address. The mileage and ride price is automatically calculated prior to placing the order.
When a request is made through the app all available local drive teams are immediately notified. A drive team includes two people: one drives the customer home in their car, while the other follows to take the first driver to the next job.
Drivers are hired from local areas so they know the territory well and all share a common concern for the health and safety of the community. They all go through a stringent training process, motor vehicle check, and background check. Not only is StearClear reducing the number of DUI's in Bergen County, it's also creating jobs. Each year there are more than 12,000 DUI-related deaths and 900,000 DUI/DWI arrests in the U.S. – StearClear is dedicated to reducing these numbers.
Customers have the option of registering a credit card and paying within the app, or paying the driver in person. Rates are $20 per pickup plus $2.50 per mile. Premium members can pay $5 per month then get discounted rates of $15 per pickup and $2.25 per mile making it the cheaper option even if it's only used once a month. The pricing is on average 20-30% cheaper than a black car service and around 5% more or less than a local cab ride.
StearClear is currently catering to residents in Bergen County but plans on expanding throughout New Jersey and eventually across The United States. They are already working with many local restaurants and bars who promote StearClear to their customers. "This is great, I needed this ten years ago!" a customer who recently discovered the service said. Well, it's here now, so never again should one need to worry about how to get home. The value far exceeds the modest price tag.