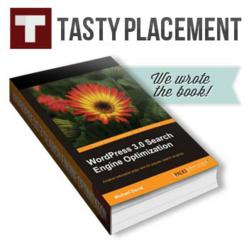 We are going big: the founder, Michael, is speaking on 3 panels and we'll have a booth in the exhibition hall, and we are also co-sponsoring one of the networking parties
Austin, TX (PRWEB) August 02, 2012
Austin-based digital marketing agency TastyPlacement (http://www.TastyPlacement.com) is gearing up for a major presence at this fall's Pubcon search and social marketing conference in Las Vegas, Nevada. "We are going big: the founder, Michael, is speaking on 3 panels and we'll have a booth in the exhibition hall, and we are also co-sponsoring one of the networking parties," said Tony Tovar, TastyPlacement's sales director.
"Pubcon is much more than the best and brightest folks in search, it's also a ton of fun," added TastyPlacement's founder, Michael David. "The ideas and tactics that our peers reveal at Pubcon are vital to our business success and it's an honor to speak among such accomplished faculty."
Mr. David is the author of "WordPress 3.0 Search Engine Optimization," a self-help guide to digital marketing with the WordPress open-source website publishing platform. The book was released in April of 2011 by Packt Publishing.
About TastyPlacement
TastyPlacement is an Austin-based digital marketing firm specializing in search engine optimization (SEO), web design, social media promotion, and Pay Per Click campaign management. It was founded in 2009 by the author of Wordpress 3.0 Search Engine Optimization, Michael David.
About Pubcon
Pubcon is a multi-track educational conference hosted by WebmasterWorld. Pubcon, supported by the industry's leading businesses, speakers, exhibitors, and sponsors involved in social media, Internet marketing, search engines, and online advertising, offers an in-depth look at the future of technology presented by the world's top speakers in provocative cutting-edge sessions.
For more information about the conference, contact Brett Tabke at 512-231-8107 or brett at webmasterworld.com
In the U.K., contact Neil Marshall at 512-231-8107 ext 106 or engine at webmasterworld.com
For more details about sponsorship and exhibition opportunities, contact Strategic Marketing Director Joseph Morin at 512-231-8107 ext 104 or joe at pubcon.com