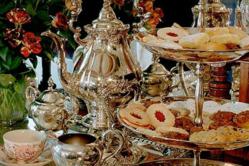 ... the restored luxury inn boasts a history as rich as its furnishings, having served as both a bordello and a home for the Girl Scouts of America - but not at the same time...
Savannah, Georgia (PRWEB) August 01, 2012
Living large is easier than ever at the Ballastone Inn, chosen year after year as Savannah's Most Romantic Inn and its Best Bed and Breakfast, says owner Jennifer Salandi.
Salandi has partnered with Living Social to offer two nights for loving couples in a deluxe room for $274 or a suite or junior suite at $375, regularly valued at $548 and $750, respectively. Available since July 30, only a limited number of the specially priced packages are still available for purchase online through August 8 at http://tinyurl.com/c2nyfyr.
Built in 1838, the restored luxury inn boasts a history as rich as its furnishings, having served as both a bordello and a home for the Girl Scouts of America - but not at the same time, Salandi wryly explained.
Today, the Inn pampers well-heeled travelers who have come to expect the kind of four-star service the Ballastone Inn provides. The Living Social special offer includes a bonus bottle of red or white wine in-room on arrival, the famous Ballastone Inn gourmet breakfast for two, formal afternoon tea, and savory hors d'oeuvres.
Located at 14 East Oglethorpe Avenue in Savannah's historic district, the Ballastone is convenient to the best dining, shopping, and local culture that Savannah has to offer. Featuring a parlor and private bar plus 16 sumptuously outfitted bedrooms on four floors, the beautifully decorated Victorian-style mansion includes an elevator, private courtyard garden and off-street parking with 24-hour surveillance.
Salandi says her professional staff and concierge services are always working to make guests' getaway vacations, romantic weekends and business trips a pleasure.
"In the afternoon, our guests enjoy high tea served in the inn's parlor where they steep over a selection of teas from Harney & Sons served on antique silver while indulging in freshly cut salmon sandwiches, blueberry scones with Devonshire cream and other Dixie delights. Later, the evening's hors d'oeuvres are served at our private Victorian bar where they enjoy a selection of seven boutique wines, champagne or complimentary port and sherry. A special selection of ice cold beer is available all day," Salandi said.
"We also provide free Wi-Fi and television in every room plus the Wall Street Journal, USA Today and the Savannah Morning News delivered daily," she added.
Full details of the Living Social offer are available at http://tinyurl.com/c2nyfyr. Salandi explained that the two-for-one promotional value expires on December 31, 2012.
More information about the Ballastone Inn is available at http://www.ballastone.com, by email at inn(at)ballastone.com or by calling (912) 236-1484 or (800) 822-4553 and, with nearly 4,000 members, the Ballastone Inn's Facebook page at http://www.facebook.com/ballastone is another way to keep up with events and future promotions offered at the Inn.
# # #
EDITORS – Visitors to Savannah's Ballastone Inn tend to come primarily from the states of Georgia and Florida, of course, but they include guests from California, New York, Ohio, South Carolina, Texas and Washington, DC. Other guests come from Arizona, Connecticut, Iowa, Kansas, Louisiana, Maine, Mississippi, Nevada, New Jersey, North Carolina, Pennsylvania, Virginia as well as from other states and around the world.