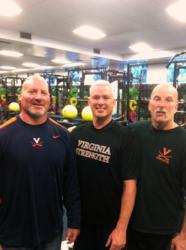 "Every great coach, player, and team is looking to improve – to get a slight edge. The Combat Football program gives them that edge" - Coach Mike Storms
Charlottesville, Virginia (PRWEB) August 13, 2012
When you think of karate masters, images of a serene Mr. Miyagi breaking a beer bottle off of a car in one chop, or a shirtless Bruce Lee with his fists of fury come to mind. Martial Artists are known for violence, self-discipline, mental toughness, and refusing to give up even when the odds are against them.
7th degree black belt Karate Master and former United States Marine Mike Storms is not Mr. Miyagi, but he trains NFL and college football players to develop the character and hand skills that would make any karate kid proud.
Storms recently traveled to the University of Louisiana at Lafayette and the University of Virginia to train with the college football players using his professional Combat Football training program.
"Every great coach, player, and team is looking to improve – to get a slight edge," Storms says. "The Combat Football program gives them that edge. Physical skills are important, but without mental toughness and a 'win or die trying' attitude, your team won't get where you want them to. You must train the mind, body, and spirit." With this in mind, Storms adds a healthy dose of Marine Corps team building, mental focus, and toughness training to the Combat Football physical skill improvements for each position.
As Coach Rusty Whitt, head strength coach at University of Louisiana at Lafayette and former Army Special Forces veteran said after Storms spent a day training the ULL team, "Coach Storms' training opened up our players' minds to understand that the only reason you get blocked during a play is because you allow it to happen. His system empowers the player with proven methods to allow the most physical play within the rules of the game…I'm sold."
Storms says, "Combat Football is a perfect addition to football training, it's a fist fight in the trenches, between the tackles, whoever has the best hand and foot skills, and controls the line of scrimmage, wins the game."
Storms has taken the Combat Football program all over the country during the past 20+ years. When asked if teams and players he's coached ever face each other on the field, he responds "It's especially interesting when players we have coached face off against each other." This year the University of Virginia will be playing Penn State. Storms has worked with UVA this year, and also with Penn State Senior MLB stand-out Mike Mauti who lives in Storms' home town of Mandeville, Louisiana, and has trained at his facility there.
When asked about it, Storms says, "May the best man win in situations like that. All things being equal, it's whoever wants it the most, and refuses to be denied and says in their heart and mind 'you'll have to kill me before I quit' gets the victory. Mike Mauti is one heck of a football player, with great mind, body, and spirit, but so are the UVA players he will be up against."
Head strength coach at University of Virginia, Evan Marcus, has known Storms since his days at the New Orleans Saints, where Storms was the assistant to the Defensive Line coach under Mike Ditka. As a member of the incoming Saints staff the following year, Marcus began traveling to Storms' facility in Mandeville, Louisiana for weekly training sessions in martial arts and the Combat Football skill sets.
Marcus says, "Coach Storms brings an aggressive approach to combining martial arts and specifically hand fighting to football. The principles make sense to the players and once they learn them they can rep the skills on their own. He provides the athletes with more tools and skills for their toolbox that help them become better football players."
Storms says, "I foresee a day when most teams have a full or part time martial arts coach that understands the game of football and all of its intricacies. It's not about punching and kicking, It's about aggressive and explosive swims, rips, palm heels, and arm sweeps that stun your opponent and leave them defeated. It's about body mechanics and destroying your opponents' balance and focus in a matter of seconds. Otherwise it's just a karate class."
ULL Coach Witt says, "Seeing Coach Storms make the Combat Football work on a 300 pound player gets everyone's attention pretty quick. Combat Football works."