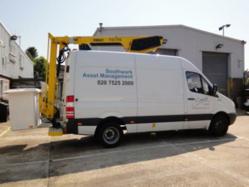 (PRWEB UK) 1 August 2012
South-East London's Southwark Council has today announced that it has selected Masternaut's vehicle tracking solution for its public realm asset management division.
The Council division, which maintains 340 kilometres of public roads and footpaths, and over 60 grass verges within the area, made the decision to select the pan-European telematics provider in order to better coordinate its mobile workforce.
The Masternaut vehicle tracking solution, which has been installed into the Council's highways maintenance vehicles, allows the service managers to monitor the real-time whereabouts of each of these vehicles via the solution's cloud-based tracking system.
By providing insight into driver location, the systems have enabled contract managers to coordinate maintenance tasks quickly and directly, using this data to deploy nearby drivers to respond to issues as they arise. These issues include resident complaints, highway maintenance requirements, congestion problems and day-to-day repair and upkeep of local roads.
Masternaut's technology has also proven particularly useful for areas of the authority which suffer the high level of congestion common to certain areas of London. With the systems able to transmit data regarding vehicle speed, in addition to whereabouts, this offers Council managers the ability to take into account those drivers stuck in traffic while planning and coordinating the workforce.
Eddie Henry, Operations Manager at Southwark Council, said: "from the moment we engaged with Masternaut at the start of the consultation process, we knew this was a company that completely understood the requirements of Southwark Council."
"We are a densely populated borough, encompassing a number of top London tourist attractions, so as a result a huge amount of traffic passes through our roads every day. There is therefore a huge pressure on our highways maintenance team to be readily available to address any issues that arise, as well as to carry out regular, on-going upkeep. Masternaut facilitates the efficient coordination of these demands, and continues to prove beneficial in the smooth running of this division."
ENDS
Images to accompany the news:
Masternaut logo
Southwark Council asset management vehicle
About Masternaut
Masternaut designs and delivers innovative solutions for managing the mobile workforce that enable customers and partners to achieve evolutionary step-changes in their performance and service delivery. Formed through the combination of established telematics providers, Cybit and Masternaut, the new Masternaut boasts the broadest range of telematics products, services and R&D capability in Europe.
The companies represented some of the fastest-growing private technology firms in Europe and were ranked 13th in the Sunday Times International Fast Track, having achieved more than 150% growth in sales during 2007-2010; whilst Masternaut was also featured in the 2007, 2008 and 2009 Sunday Times Tech Track 100, and was also recognised on the Deloitte Fast 500 EMEA in 2009.
Masternaut has more than 550 employees and 10,000 customers across Europe and has been recognised by Berg Insight as Europe's largest telematics provider.