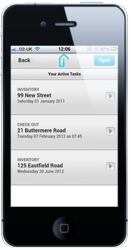 "Our customers wanted to be able to produce reports offline..... Now that's been addressed we look forward to further improving InventoryBase to make it without question the best software on the market
Portsmouth, Hampshire (PRWEB UK) 2 August 2012
InventoryBase, the award winning property inventory software has just launched its first Mobile App designed to make creating property inventories even easier.
The App allows users to produce inventories including photos and reports while offline. This means that agents will no longer have to rely on Internet connections or phone signal to produce the documents. The app will also store the individual users personal 'dictionary' which records commonly used terms and phrases, making dictating an inventory incredibly fast.
Steve Rad, Managing Director of Radweb says "Our customers wanted to be able to produce reports offline. That was the one thing holding some customers back in areas with poor reception. Now that's been addressed we look forward to further improving InventoryBase to make it without question the best software on the market."
InventoryBase is designed as a complete property inventory solution; the software allows the user to create detailed inventories including photos, in seconds. It also provides a booking system for clients and estate agents, assigns tasks to team members and produces reports that are fully customisable to include logos and any specific legal information.
The system can be accessed on every device from smart phones to desktop PCs. And, unlike similar systems, for a fixed monthly fee agents get unlimited inventories, unlimited users and free support with no hidden fees or contracts.
Since the launch in May InventoryBase has gained numerous subscriptions from landlords, letting agents, independent inventory clerks and even large franchise-based property inventory companies accredited by the APIP and AIIC.
The software is unlike any other on the market, having been built using cutting edge technologies and the team at Radweb are keen to keep it ahead of the competition. The release of the InventoryBase mobile app is the first stage of an ongoing process of improvements and updates that will be seen in the coming year.
Notes to editors:
The mobile app is currently available on the Android store, Google Play and is pending release on the Apple store.
http://www.inventorybase.com
http://www.radweb.co.uk
For further information please contact Steve Rad:
07719 532018
steve(at)radweb(dot)co(dot)uk
Portsmouth, UK Office:
+44 (0)33 33 444 505
12 Acorn Business Centre,
Northarbour Road,
Portsmouth,
PO6 3TH
InventoryBase Key Benefits:

Efficient
Automated inventories and admin
Accessible on the move – smartphones etc
Perfect for busy agents and landlords
Packages include:

Fixed price £50 or £100 per month
Unlimited inventories and other reports
No hidden fees or contracts
Unlimited users at no additional cost
No installed software – works anywhere with an internet connection or 3G/4G
No additional hardware required – works seamlessly on multiple devices over a browser
Free support & access to training videos
Reports available include:

Inventory
Check In, Check Out
Interim/Mid-Term Inspection and Update
All with attachments such as photos, videos, documents and any other supporting notes, including meter readings, keys and utilities.