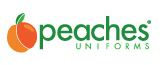 Plantation, FL (PRWEB) August 02, 2012
Medical Scrubs Mall, a national provider of scrubs and medical uniforms has added customer favorite Peaches Scrubs to its website.
Peaches Scrubs is very popular among medical professionals, with their broad product offering and budget- friendly pricing structure. The selection on Medical Scrubs Mall includes vibrant scrub sets, trendy prints scrub tops, and an extensive selection of nursing skirts, nursing dresses, nursing suits, and lab coats.
Peaches Uniforms is known for providing customers with styles that are both fashionable and durable, with built-to- last fabric that is crucial for those in the medical field. Their newest line, Peaches Med Couture is made with their signature EZ Flex stretch fabric to be ideal for those who are constantly on the go at work. This line is indented to be flexible enough to move with you as you work, but also sturdy enough to be long lasting and low maintenance with continued washing. The Med Couture color palette ranges from bold and bright fashion colors (named after fellow fruits) to standard uniform colors like Ceil, Navy, White, and Black.
By adding Peaches Scrubs to the current brand offerings on the website, Medical Scrubs Mall hopes to give their customers a continually improving "one stop shop" buying experience. A greater variety of brands will allow for customers to find everything they need in one place. Being able to avoid "shopping around" is essential when placing group orders for an entire office or hospital floor. When additional brands are added, it also ensures that prices will be kept competitive for customers. This contributes to the ultimate goals of Medical Scrubs Mall, to build site loyalty, and to continually provide their valued customers with a positive medical scrubs purchasing experience.
For more information about and to shop the many styles from Peaches Uniforms, please visit http://www.MedicalScrubsMall.com.
About Medical Scrubs Mall
Medical Scrubs Mall is a leading retailer of scrubs and medical uniforms. The company operates out of Plantation, Florida. With medical uniforms from established names like Landau, Cherokee, Dickies, Peaches, and Grey's Anatomy by Barco, Medical Scrubs Mall has something for every customer.
For more information and to view their garments, visit the Medical Scrubs Mall website at http://www.MedicalScrubsMall.com or call 800-283-8708.