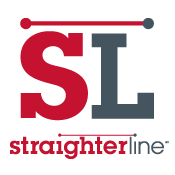 Paying for college is one of the greatest stresses on American students and families. Together, StraighterLine and Perkscard help students breathe just a little bit easier.
BALTIMORE, MD (PRWEB) August 01, 2012
StraighterLine (StraighterLine.com) announced today that PerksCard (PerksCard.com) will be offering their PerksCard Network members and families a tuition discount on StraighterLine's online college courses. This new PerksCard benefit will draw upon StraighterLine's $99 a month subscription model to allow students to take general education courses on their own schedules. Students who take advantage of this program can save up to 90% on their first year of college tuition.
"Paying for college is one of the greatest stresses on American students and families. Together, StraighterLine and Perkscard help students breathe just a little bit easier" stated Burck Smith, CEO and founder of StraighterLine.
"PerksCard Network is always striving to deliver our members access to high quality programs at a strong value. The addition of StraighterLine not only represents a leader in the online education category, but through this unique offer allows PerksCard members and their families access to college courses at a significant savings" said Greg S. Poling Director of Merchant Relations.
Nationally the number of students taking online courses or distance courses has been steadily increasing every year. Cost is now the focal-point for choosing a college, according to a Parthenon Group study cited by The Wall Street Journal: "Tuition cost rose to the top spot in 2012 from the No. 5 criteria in school selection back in 2007."
Through this partnership PerksCard members and families are given the opportunity to save even more on their college education, an increasingly valuable benefit given today's skyrocketing costs of education. StraighterLine's affordable online college courses allow students to save up to 90% on their first year of college. Students can spend a year or two at Straighterline as if it was an online community college before transferring to their preferred college or university to complete their degree. Course credits transfer to StraighterLine's partner colleges and universities or through the ACE Credit service.
PerksCard members and families will have the opportunity to enroll in any of StraighterLine's online college courses and receive a special member's only price. Currently, StraighterLine offers thirty eight entry-level college courses online, including College Algebra, Precalculus, Calculus I, Calculus II, Business Writing, Accounting I, Accounting II, Managerial Accounting, Macroeconomics, Microeconomics, Business Statistics, Introduction to Business and Personal Finance.
About PerksCard
PerksCard® takes great pride in serving and supporting the everyday lifestyle needs of its industry leading clients and their employees, customers and members. Since 1988, PerksCard® has been an industry leader in delivering discounts on products and services individuals use every day.
Today, PerksCard® is redeploying its brand and expanding its featured partner network by inviting new partners to participate in a powerful membership program, such as the opportunity being represented by StraighterLine. This program currently reaches into hundreds of major corporations, colleges, alumni associations and other affinity groups throughout the United States.
About StraighterLine
StraighterLine has been recognized as a revolutionizing force in education by major news organizations and the U.S. Chamber of Commerce for offering students online courses that earn real college credit for just $99 a month. Fast Company named StraighterLine one of the "10 Most Innovative Companies in Education."
In order to facilitate the award of credit, StraighterLine has forged partnerships with leading accredited online colleges and universities. A student ultimately earns a degree from those institutions but realizes tremendous savings and convenience by starting with StraighterLine.
StraighterLine's courses are evaluated and recommended by the American Council on Education's College Credit Recommendation Service (ACE CREDIT). In addition to the institutions with which StraighterLine has a direct relationship, more than 250 other schools are reported to have accepted StraighterLine coursework for transfer credit.
Currently, StraighterLine offers 38 entry-level college courses online in the Sciences, Humanities, English, Math and Business. 5 StraighterLine courses have been approved by The College Board to be listed as AP courses: AP Macroeconomics, AP Microeconomics, AP English Language and Composition, AP Calculus AB and AP Psychology. And dozens of StraighterLine courses cover the same subject areas as CLEP exams, making them acceptable alternatives to or preparations for those tests.
For information, visit StraighterLine.com or call 202-507-7020 or 1-877-str8erline (1-877-787-8375).