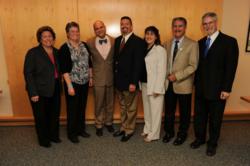 Riverdale, NY (PRWEB) August 02, 2012
Bon Secours New York Health System's Schervier Nursing Care Center is proud to announce that Dr. Frank Maselli was invited to serve as a participant at a White House Town Hall Meeting on Electronic Medical Records on June 19, 2012. Dr. Maselli, a family practice physician and partner at Riverdale Family Practice and a key part of the care continuum at Schervier, who also serves as a member of the Schervier Board of Trustees and New York City PCIP Advisory Board for Health IT, took part in a White House roundtable discussion. The roundtable was hosted by Secretary of the U.S. Department Health and Human Services, Kathleen Sebelius, and moderated by Dr. Farzad Mostashari, the National Coordinator for Health Information Technology for the U.S. Department Health and Human Services.
Dr. Maselli represented the New York City Department of Health REACH at the two-hour discussion, which provided more than 100 physicians the chance to think through aspects of the Affordable Care Act (ACA) that relate to payment and delivery systems reform and provide the opportunity to discuss the HITECH and meaningful use provisions of the ACA and quality improvements. Streamlining the implementation of the ACA is especially important at healthcare facilities such as Schervier, that offer a wide range of senior care services such as long-term care and rehabilitation.
"This was an incredible experience and a real honor to be selected to participate in this highly relevant meeting among colleagues that I respect very much, " said Dr. Maselli. "I became interested in electronic medical records 10 years ago when I was looking for productivity solutions for my office; now all records in my office are electronic, and we recently implemented a patient portal at Riverdale Family Practice, which allows patients to view and print their own medical records, lab and test results and other information for their personal files for reference. It's an extension of the personal service we offer and it has dramatically improved our efficiency overall and enabled us to increase our standard of care."
The White House Town Hall meeting encouraged physicians to share their own experiences, achievements, solutions, barriers and failures. Participation in the meeting was only extended to key physicians and staff who have extensive knowledge on the use of electronic medical records to gain a broad prospective on the use of the technology from both a clinical and business standpoint. The goal of the forum was to identify ways in which usability of health IT systems can be implemented and improved and what capabilities exist to create an interoperability of existing systems.
About Bon Secours New York Health System
Bon Secours New York Health System is part of Bon Secours Health System Inc., a not-for-profit Catholic health system headquartered in Marriottsville, Md.
Schervier Nursing Care Center is located in the Riverdale section of The Bronx, and is part of Bon Secours New York Health System, whose mission is to bring compassion to health care and to be "good help to those in need." Bon Secours New York's mission is carried out through the services and programs of Schervier Nursing Care Center, Schervier Short-Term Rehabilitation in Riverdale, Schervier Respite Care, Schervier Center for Alzheimer's and Dementia Care, Schervier Home Care, Schervier Cardio/Pulmonary Sub-Acute Care, the Bon Secours Center for Research in Geriatric Care and the Schervier Apartments. Information about Schervier and Bon Secours New York may be obtained from the Business Development Department at 2975 Independence Avenue in Riverdale, by calling (718) 548-1700, and at http://www.scherviercares.org.
About Riverdale Family Practice
Established in 1987 by Dr. Carl Franzetti and Dr. Frank Maselli, Riverdale Family Practice has been serving the Riverdale community for 25 years. Today, they have expanded to seven board certified family practitioners. A diabetic nurse educator is available on site for consultation. The doctors pride themselves on their compassion and commitment to provide excellent health care to their patients. Convenient extended office hours are available Monday to Friday until eight o'clock in the evening. A state of the art Electronic Medical Record system is utilized to provide patient care. Hospital affiliations include St. Joseph's Medical Center, Montefiore Medical Center and Columbia Presbyterian Hospital. Additional information can be found at http://www.riverdalefp.com.
# # #